Sierra Wireless also expands mangOH ecosystem, adding manufacturing and design partner Jabil for rapid productization of low-power Industrial IoT devices
Sierra Wireless (NASDAQ:SWIR) (TSX:SW), the leading provider of fully integrated device-to-cloud solutions for the Internet of Things (IoT), today released alpha samples of its next-generation mangOH® open source hardware platform, inviting the IoT developer community to influence the final product. mangOH Yellow, a "super sensor" for connected IoT, allows developers to measure and monitor virtually anything, with all of the interoperable building blocks needed to rapidly develop and productize low-power Industrial IoT applications.

The award-winning mangOH platform helps developers address many of the challenges that limit their ability to quickly and cost-effectively bring connected cellular LPWA (Cat-M1/LTE-M and NB-IoT) and 2G/3G/4G products to market. mangOHs open source model, industrial-grade components and extensive ecosystem enable businesses to reduce time to market for Industrial IoT applications by up to one year and cut development costs in half.
"Whether youre developing IoT applications for a startup or a Fortune 500 company, mangOH gives you a head start to a minimum viable product, right out of the box," said Ashish Syal, Chief Engineer and mangOH Founder, Sierra Wireless. "Building on the success of mangOH Red and Green, were excited to release mangOH Yellow and give the IoT developer community the opportunity to influence the final product."
Smaller and lighter, mangOH Yellow is targeted at IoT applications where compactness and low-power consumption are essential. The size and mechanical design will allow developers to build standalone and extremely compact proof-of-concepts/prototypes or to incorporate it into existing systems for instant IoT connectivity. Existing mangOH Red and Green and applications developed using the Legato™ open source Linux platform can be easily ported to mangOH Yellow. In addition to cellular connectivity, mangOH Yellow features built-in Bluetooth Mesh and BLE 5, as well as Wi-Fi and NFC. It also includes 14 advanced sensors and actuators on board in an ultra-low-power architecture for long-lasting, mobile, battery-powered applications. mangOH Yellow provides ultimate flexibility and functionality with an IoT connector slot to leverage the more than 15 IoT cards built by members of the collaborative mangOH ecosystem, which are available today.
Sierra Wireless also announced that Jabil, a provider of design, manufacturing, supply chain and product management services, has joined the extensive mangOH ecosystem. Jabil is the lead manufacturing partner for mangOH Red and the next-generation mangOH Yellow.
"mangOH is creating a disruptive opportunity in the IoT space for companies to innovate, and Jabil is pleased to join the ecosystem to help mangOH users cost-effectively take their prototypes to market," said Rafael Renno, Senior Business Unit Director, Jabil. "Were not only manufacturing mangOH, were also working with several large customers to develop new industrial use cases based on mangOH Red that will revolutionize industries."
Availability
mangOH Green and mangOH Red platforms are commercially available through preferred distributors. Visit http://mangoh.io/buy to buy. mangOH Yellow will be commercially available in May 2019. Attendees of the Sierra Wireless Innovation Summit on June 5, 2018, in Paris, France, will be the first to have access to early samples.
Webinar
Open Source Technologies Driving Low Power Tracking Applications
June 21, 2018, 08:00 AM PT
Register: https://event.on24.com/eventRegistration/EventLobbyServlet?target=registration.jsp&partnerref=sweventpage&eventid=1676455&sessionid=1&key=B71FEA6171F5459F240A4C8D51C9FD00&regTag=&sourcepage=register.
About mangOH
Sierra Wireless founded the mangOH open source hardware community in 2015 to make it easy for developers to prototype with any wired, wireless, or sensor technology based on their unique IoT use case. mangOH platforms deliver 90% of the solution prototype out-of-the-box, enabling software developers to easily build reliable IoT solutions that hardware designers can customize to rapidly create Industrial IoT devices. It provides:
Open source and business friendly designs so anyone can copy, modify and build commercial products;
Flexible designs to adapt to any IoT use case based on wired, wireless, and sensor technologies;
Interoperable, industrial-grade components so that prototypes can be easily turned into a commercial products; and
Support for other open source initiatives like the Legato Linux platform to remove the complexity of hardware integration.
For more information, visit http://mangoh.io.
Featured Product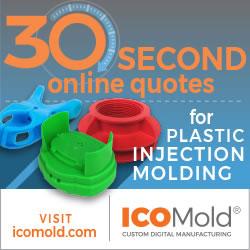 ICOMold provides plastic injection molding, CNC machining of plastic and metal, and urethane casting to customers worldwide in a variety of industries. We offer low-cost, high-quality custom plastic parts manufactured to your design, with a very fast turnaround. Any quantities from single prototypes to large, on-demand production runs. We are ISO 9001:2015 certified, and our production molds carry a lifetime warranty. Get an online quote in less than 30 seconds with our interactive quotation system.