The solutions provider will be offering its automation software through a Software as a Service (SaaS) model. The two functional areas, Designer and Project Builder, will thereby only be usable as cloud-based solutions with separate licenses.
EPLAN Software and Services announces its latest version of its EPLAN Cogineer platform: EPLAN Cogineer Advanced. The solutions provider will be offering its automation software through a Software as a Service (SaaS) model. The two functional areas, Designer and Project Builder, will thereby only be usable as cloud-based solutions with separate licenses. Data security is naturally assured: user rights for Designer, in which the rule sets and macros for automatic schematic creation are defined, can be clearly defined through a new Rights Management function.Cogineer Advanced.jpg: Users logged into Cogineer Project Builder access the configurations authorized for them, select options and variants, and then generate wiring documentation at the click of a button. EPLAN provided a sneak preview of the next expansion stage of its automation software at this year's Hannover Messe. EPLAN Cogineer Advanced has expanded functionality in the area of interfaces and instancing through the separate licensing of the two functional areas; Designer and Project Builder. Models created in Designer can thereby also only be edited in Designer by the user group, which receives access to it through a new Rights Management feature. This fulfils a crucial aspect in regards of data security. Another interesting feature is the new business model. The upcoming Version 2.8, which is anticipated to be available starting in late summer 2018, will be usable as a completely cloud-based Software as a Service (SaaS). XML Interface for Process Integration EPLAN Cogineer Advanced has an import interface based on the XML format. Complete configurations can be imported with it, including all of their value sets. This provides clear benefits for users; the software can quickly be integrated into processes and existing data for automated schematic creation can continue to be used. In theory, this means additional time savings and guaranteed quality by avoiding duplicate data storage and data entry. Dynamic Configuration Another new function in EPLAN Cogineer Advanced is the possibility for instancing of typical elements. During a configuration process users can dynamically select which partial functions or partial circuits they wish to use in a project's structural characteristics. The multiple use of partial as well as complete functions is also supported. The instancing of these typical elements can also be directly controlled through the import of an XML data created upstream in the process. The biggest benefit of instancing typical elements: a 100-percent configuration doesn't have to be created for every variant and structure of a target project. Particularly in plant engineering, where often no documentation structure from one project ever matches another, this is an enormous advantage. Plant engineers and system integrators save a lot of time when they can reuse parts of a configuration. The System Thinks for Itself The entry of logical dependencies and formulas will be considerably simplified in all versions of EPLAN Cogineer. A new Formula Assistant will ensure moving forward that logical conditions and formulas - thus the entire relation-ship knowledge for a function or functional group - can be input even more easily and, above all, without mistakes. Depending on the type of configuration variables, only the permitted operands for the respective type will be offered. At the same time, the Formula Assistant suggests all of the variable names available, »live», during entry. Typos during entry are thereby impossible - ensuring consistently high quality during project development. Find out more information regarding EPLAN Cogineer Advanced, visit at: www.eplancogineer.com

Cogineer Advanced2.jpg: The configuration variables or their display names automatically define the user interface in Project Builder.
■
EPLAN Software & Service
EPLAN Software & Service develops CAE solutions and advises companies in the optimization of their engineering processes. Customers benefit from increased efficiency in the product development process through standardized procedures, automated sequences and consistent workflows. EPLAN provides custom concepts for system implementation, installation and smooth integration into IT/PLM system landscapes based on standardized engineering solutions. Our service portfolio also covers customizing, consulting and training. The development of individual and standardized interfaces for ERP, PDM and PLM ensures data consistency in product development. Factors for success include a consistent customer focus, global support and innovative development and interface expertise. EPLAN is a subsidiary of the Friedhelm Loh Group, which has over 11,500 employees worldwide and a sales volume of €2.2 billion in 2014. EPLAN is synonymous with continuity and investment security. Seven German EPLAN branches and a presence in more than 50 countries provide support to more than 45,000 customers around the world with over 120,000 installations. »EPLAN - efficient engineering.» - the company motto - emphasizes our expertise in optimized, efficient processes which help customers remain competitive over the long term.
www.eplanusa.com
Featured Product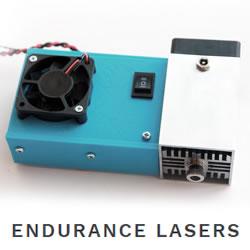 The Endurance 10 Watt laser - "Invincible" continuous power. Engraves on stainless steel, copper and brass. Cuts 4-5 mm (1/6'') wood and plywood with just one pass. Cuts 8 mm (1/3'') dark acrylic with 2-3 passes. Compatible with almost all 3D printers and CNC machines. We deliver everything you need to get started. The "Invincible" laser enables to create incredible things with your 3D printer / CNC machine. Unlike many Chinese lasers the Endurance 10 watt laser can work continuously up to 48-72 hours. Its lifetime is about 10 000 hours. Its real rated optical power output of is 10 watt (10000 mW). Endurance provides an ultimate customer support with full guidance and tutorials. Learn more about the laser: https://www.youtube.com/watch?v=kM-utYFYvFk