• Focusing on the latest versions of MVTec HALCON and MERLIC • Highlight: Deep learning on embedded platforms • Live demonstrations of automation scenarios
Munich, May 16, 2018 - Machine vision is a key technology for automation. MVTec Software GmbH (www.mvtec.com) underscores this fact with its presence at the automatica trade show, which takes place from June 19 to 22, 2018 in Munich. At booth 305 in hall B5, the leading provider of standard machine vision software shows how machine vision can be used to optimize processes in automation and robotics. This is done with a focus on the latest versions of the software products HALCON and MERLIC. Live demonstrations enable visitors to experience the use of modern machine vision technologies in automation scenarios up close. Also, there is a chance to gain insight into new machine vision functionalities in the areas of parallelization and matching.

HALCON 18.05: Deep learning on embedded boards
At the MVTec booth, experts demonstrate the use of complex deep learning algorithms on embedded platforms: Using the JetsonTX2 embedded board from NVIDIA, they show how deep learning can be used to classify a wide range of objects, such as pills or fruit, quickly and precisely. Character and number combinations are also reliably recognized in OCR applications. The live demo impressively shows that embedded hardware is also suitable for sophisticated machine vision tasks. Another demo visualizes an application scenario in the area of robotics. A robot arm reaches into a collection of objects and reliably locates the position of the relevant object thanks to the modern matching technologies of MVTec HALCON. The arm precisely removes this object from the crate, recognizes it with a 2D camera and innovative deep learning technology, and sets it aside.
MERLIC 4 preview: Parallelization and use of Hilscher cards
Another demonstration illustrates functions of the latest preview version of MERLIC 4: Various inspection tasks are performed with the aid of two cameras, demonstrating the new parallelization capabilities, i.e. the parallel execution of independent tools. This demo also shows how MERLIC uses deep-learning-based OCR technologies to precisely recognize different fonts on packaging, such as expiry dates or batch numbers, in fractions of a second. MVTec also illustrates the seamless integration of a programmable logic controller (PLC) into vision systems using MERLIC. In the future, MERLIC will be even better integrated into automation solutions via Hilscher cards, for example with the aid of Profibus. The first successful tests have already been carried out for this trend-setting development.
To round off this varied array of demonstrations, Prof. Carsten Steger, Director of Research at MVTec, will take part in the automatica Forum with a presentation about "Usage scenarios for machine learning in industrial imaging - examples of current projects in the food and pharmaceutical industries".
About MVTec
MVTec is a leading manufacturer of standard software for machine vision. MVTec products are used in all demanding areas of imaging: Semi-conductor industry, web inspection, quality control and inspection applications in general, medicine, 3D vision, and surveillance. MVTec, with its head office in Munich (Germany), has more than 30 established distributors worldwide and in addition, MVTec, LLC works out of Boston, MA (USA). www.mvtec.com
About MVTec HALCON
MVTec HALCON is the comprehensive standard software for machine vision with an integrated development environment (HDevelop) that is used worldwide. It enables cost savings and improved time to market. HALCONs flexible architecture facilitates rapid development of any kind of machine vision application. MVTec HALCON provides outstanding performance and a comprehensive support of multi-core platforms, special instruction sets like AVX2 and NEON, as well as GPU acceleration. It serves all industries, with a library used in hundreds of thousands of installations in all areas of imaging like blob analysis, morphology, matching, measuring, and identification. The software provides the latest state-of-the-art machine vision technologies, such as comprehensive 3D vision and deep learning algorithms.
The software secures your investment by supporting a wide range of operating systems and providing interfaces to hundreds of industrial cameras and frame grabbers, in particular by supporting standards like GenICam, GigE Vision, and USB3 Vision. By default, MVTec HALCON runs on Arm®-based smart cameras and other embedded vision platforms. It can also be ported to various microprocessors/DSPs, operating systems, and compilers. Thus, the software is ideally suited for the use within embedded systems.
www.halcon.com, www.embedded-vision-software.com
About MVTec MERLIC
MVTec MERLIC is an all-in-one software product for quickly building machine vision applications without any need for programming. It is based on MVTec's extensive machine vision expertise and combines reliable, fast performance with ease of use. An image-centered user interface and intuitive interaction concepts like easyTouch provide an efficient workflow, which leads to time and cost savings. MERLIC provides powerful tools to design and build complete machine vision applications with a graphical user interface, integrated PLC communication, and image acquisition based on industry standards.
All standard machine vision tools such as calibration, measuring, counting, checking, reading, as well as position determination are included in MERLIC. These are all based on the latest state-of-the-art machine vision technologies, such as matching or deep learning. MERLIC is available for Windows-based PC and embedded platforms, making it ideally suited for use in smart cameras.
www.merlic.com
Featured Product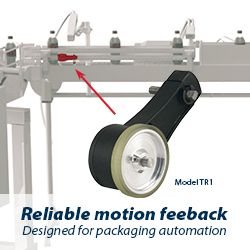 The Model 30MT is a compact magnetic encoder module designed for the most extreme environments. It offers sealing up to IP69K, an operating temperature range of -40° to 120° C, and a shock and vibration rating that conforms to Mil-STD-202G. With a large air gap and tolerance to misalignment, up to 1024 CPR (4096 PPR with Quadrature Counting), and easy alignment and installation, the Model 30M or is an excellent solution where you need motion feedback in your robotics application.