M. Holland named US Master Distributor for Owens Corning's XSTRAND™ composite filaments for high-performance 3D printed parts in thermoplastic resin industry
NORTHBROOK, Ill.--(BUSINESS WIRE)--M. Holland Company, a leading distributor of thermoplastic resins, announced today it has signed a distribution agreement with Owens Corning, a global leader in the glass fiber reinforced composite industry, to distribute the company's XSTRAND™ products.

News: @mhollandco signs distro agreement with @owenscorning to be U.S. master distributor of its XSTRAND composite filaments for high-performance #3D printed parts.
Tweet this
Owens Corning's XSTRAND™ line of products are high-performance composite filaments for 3D printing, a growing market segment in which M. Holland is investing to support client needs. M. Holland will serve as Master Distributor for the products, managing a network of sub-distributors and directly distributing XSTRAND™ filaments to M. Holland clients in the thermoplastic resin industry in the United States and Mexico beginning in late May.
Owens Corning's XSTRAND™ product line employs proprietary fiber reinforcement technology developed within its global technical network including dedicated 3D printing laboratories in the USA and France. XSTRAND™ filaments enable the production of 3D printed parts that are 50-250 percent stronger and stiffer, making them structurally superior to traditional 3D printed parts. In addition, the XSTRAND™ materials have good chemical and UV resistance. This combination of performance makes the XSTRAND™ product line suitable for industrial production and functional prototyping.
"We expect 3D printing to become an integral part of the global manufacturing infrastructure," said Ed Holland, CEO at M. Holland. "Consistent with our mission as a distributor, we want to provide our suppliers with reliable channels to the plastics market while providing our clients with customized solutions to their material needs, which, to a growing degree, include 3D printing."
To support its 3D printing initiatives, M. Holland is investing in new 3D printing capabilities at its research and development center in Easton, Pennsylvania, and adding dedicated commercial and technical support resources.
ABOUT M. HOLLAND
M. Holland is a leading international distributor of thermoplastic resins, providing suppliers with the most strategic channels to market, offering innovative sourcing and supply chain solutions to our clients, and helping people lead rewarding careers. Since 1950, a deep commitment to personal relationships has formed the core of the company's heritage, its culture, and its vision. Headquartered in Northbrook, Illinois, M. Holland has over $1 billion in annual sales and sells to more than 4,000 customers annually. To learn more, visit www.mholland.com. Follow M. Holland on Twitter, LinkedIn, and Facebook.
Featured Product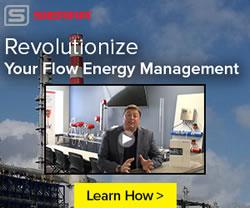 Sierra Instruments announces the launch of its new flow energy solution for managing and optimizing flow measurement for industrial facilities of all sizes. It features Sierra's QuadraTherm 640i/780i thermal flow meters, their InnovaMass 240i/241i vortex flow meters, and their new InnovaSonic 207i ultrasonic flow meter. Designed, built, and calibrated in the USA by Sierra, the Big-3TM share the same revolutionary Raptor firmware and many of the same software apps. They are a complete flow energy solution for flows like compressed air, natural gas, steam, and hot and chilled water. Together, they set a new standard in ease-of-purchase, performance, accuracy, reliability, and ease of use.