This cutting-edge innovation simplifies and speeds up the measurement of all surface parameters from the drawing in a single measurement cycle.
MAPLE GROVE, Minn., May 1, 2018 /PRNewswire/ -- The new ZEISS ROTOS roughness sensor enables the use of coordinate measuring machines to completely inspect surface waviness and roughness - even on complex workpieces, and all in a single measurement run without any reclamping. This cutting-edge innovation simplifies and speeds up the measurement of all surface parameters from the drawing in a single measurement cycle.

The ZEISS ROTOS sensor makes it is possible to check the size, form and location tolerances together with the roughness parameters on a single machine. Instead of requiring separate stylus instruments to capture more significant form deviations, these can now be performed on ZEISS PRISMO and ZEISS CenterMax CMMs. The sensor can easily be exchanged in as needed using an interface on the CMM probe. Depending on the measuring machine and the particular stylus, you can capture Ra roughness values of up to 0.03 µm with this new sensor.
The innovative design of the new ZEISS ROTOS enables the inspection of nearly all workpiece characteristics. Thanks to the three rotatable, multiple stylus arms, it is also possible to measure deep boreholes and difficult-to-reach surfaces. Even overhead measurements are not a problem for the ZEISS ROTOS. The new features also include skidless styli intended for measuring roughness and waviness on sealing faces. Programming the surface parameters is quick and easy because the ZEISS ROTOS is completely integrated in CALYPSO, the ZEISS measuring software.
Companies benefit from no longer having to invest in separate systems for at-line roughness measurements. With the ZEISS ROTOS sensor, the operator also avoids having to reclamp parts and transport them between roughness measurement systems and CMMs. Surface roughness can be analyzed and visualized in a customized, professional display together with size, form and location in ZEISS PiWeb reporting.
The ZEISS ROTOS makes companies' measuring processes faster, more reliable, more flexible and more efficient. These sensors are available for immediate order from ZEISS Industrial Metrology or its authorized dealers.
For more information visit: http://www.zeiss.com/rotos
About ZEISS
ZEISS is an internationally leading technology enterprise operating in the fields of optics and optoelectronics. The ZEISS Group develops, produces and distributes measuring technology, microscopes, medical technology, eyeglass lenses, camera and cinema lenses, binoculars and semiconductor manufacturing equipment. With its solutions, the company constantly advances the world of optics and helps shape technological progress. ZEISS is divided up into the four segments Research & Quality Technology, Medical Technology, Vision Care/Consumer Products and Semiconductor Manufacturing Technology. The ZEISS Group is represented in more than 40 countries and has over 50 sales and service locations, more than 30 manufacturing sites and about 25 research and development centers around the globe.
In fiscal year 2016/17 the company generated revenue approximating €5.3 billion with around 27,000 employees. Founded in 1846 in Jena, the company is headquartered in Oberkochen, Germany. Carl Zeiss AG is the strategic management holding company that manages the ZEISS Group. The company is wholly owned by the Carl Zeiss Stiftung (Carl Zeiss Foundation).
Further information is available at www.zeiss.com
Industrial Metrology
The Industrial Metrology business group is a leading manufacturer of multidimensional metrology solutions. These include CMMs, optical and multisensor systems, and metrology software for the automotive, aircraft, mechanical engineering, plastics and medical technology industries. Innovative technologies such as 3D X-ray metrology for quality inspection round off the product portfolio. The business group additionally offers a broad global spectrum of customer services with measuring houses and competence centers close to its customers. The Industrial Metrology business group is headquartered in Oberkochen. Production and development sites outside Germany are located in Minneapolis in the USA, Shanghai, China and Bangalore, India. The business group is allocated to the Research & Quality Technology segment. Around 6,300 employees work for the segment, generating revenue totaling €1.5 billion in fiscal year 2016/17.
Featured Product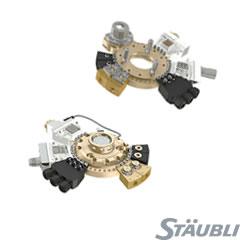 TX2 robots: redefining performance by offering collaborative safety and high performance in a single machine. These pioneering robots can be used in all areas, including sensitive and restrictive environments, thanks to their unique features. Safety functions are easy and inexpensive to implement. They allow a higher level of interactions between robots and human operators, while still guaranteeing protection of your people, production and investment.