-OnScales Solver-as-a-Service platform eliminates cost and performance barriers for engineers designing next generation 5G, Internet of Things (IoT), Biomedical and Driverless Car products. -Engineers can now benefit from OnScales proven solver technology which has been validated by world-class engineering teams over decades.
Emerging from stealth, OnScale announces $3 million in strategic seed funding and unveils the industrys first Solver-as-a-Service platform that gives engineers the power to accelerate innovation in the $40 billion 5G, Biomedical, Internet of Things (IoT), and Driverless Car markets.

OnScale was co-founded by CEO Ian Campbell, VP of Product Development Dr. Robbie Banks, and VP of Engineering Dr. Gerry Harvey as a spin-off company from Thornton Tomasetti. Thornton Tomasetti, a global leader in science and engineering consulting services, led the seed round with participation from Silicon Valley investors like Michael Lehman, former CFO of Arista Networks, Palo Alto Networks, and Sun Microsystems, and CampbellKlein, an early stage high-tech venture fund.
Introducing the OnScale Solver-as-a-Service Platform
OnScale has built the worlds first Solver-as-a-Service platform with advanced computer-aided engineering (CAE) multi-physics solvers that are seamlessly integrated with a scalable Cloud High Performance Computing (HPC) platform. OnScales solvers have been carefully architected and maintained by the same expert team over decades. Combined with the limitless HPC resources available on the cloud, OnScales platform breaks cost and performance barriers for engineers solving tomorrows toughest engineering challenges.
"The CAE/HPC space is ripe for disruption because yesterdays systems are too expensive and cumbersome to solve tomorrows engineering problems," said Ian Campbell, CEO, OnScale. "Our platform eliminates the risk associated with sequential trial-and-error physical prototyping, reduces design cycles from months to weeks or even days, and delivers unequaled computing performance that easily scales to meet ever-changing CAE workloads."
OnScale is initially targeting underserved market verticals, worth $4 billion, with heavy demand for advanced CAE and HPC. OnScale will initially focus on the following market segments:
5G - RF Filters and RF switches for 5G smartphones and base stations.
Internet of Things (IoT) and Industrial Internet of Things (IIoT) - Microphone arrays for Alexa-style IoT devices, motion and gesture sensors, biometric and fingerprint sensors and industrial sensor systems.
BioMed - Advanced therapies, targeted treatment planning and consumer ultrasound.
Driverless Car Systems - Driverless car sensing technologies like 3D ultrasound for object classification, driver and passenger monitoring.
OnScales platform gives individual engineers, boutique engineering design teams, and multinational engineering firms cost effective computational power, agility, and scalability through a flexible Software-as-a-Service (SaaS) pay-as-you-go subscription model. Engineers using OnScale no longer have to worry about buying expensive new CAE software licenses, paying for maintenance and support, procuring expensive HPC hardware, or waiting for IT to deploy and maintain CAE systems.
Partnerships
OnScale has partnered with Amazon Web Services (AWS). A trusted name in cloud, AWS provides best-in-class cloud HPC hardware, security, and availability.
Availability
The OnScale Solver-as-a-Service will be commercially available in Q2 2018.
Quotes
Tom Scarangello, CEO and Chairman of Thornton Tomasetti
"OnScale will help engineers deliver on the promise of future technologies like 5G and IoT that were all waiting for. Initiatives like 5G can only succeed through rapid innovation, and innovation happens only when engineers are unconstrained. OnScale has huge market potential because it makes world-class CAE solvers with unlimited Cloud HPC resources available to every engineer."
Michael Palma, Research Director, Enabling Technologies and Semiconductors, IDC
"Engineers continue to design and build technology that will underpin the future of IoT, however design costs and the length of design cycles can hinder innovation in autonomous vehicles, biomedical devices and 5G. One possible solution to these design challenges is combining computer aided engineering (CAE) and cloud based high performance computing (HPC)."
Mo Zarkan, USM Development Engineering Manager, Emerson Automation Solutions
"Our engineering design cycles come in bursts throughout the year. OnScales SaaS model helps us to best utilize our R&D expenses as demand for CAE and HPC fluctuates."
Dr. Michael Weaver, CEO & Founder, Cenofex Innovations
"OnScales SaaS pricing model gives us access to CAE and HPC resources that would traditionally only be available to large companies with massive R&D budgets. OnScale gives our startup a competitive edge against giants in our industry."
OnScale Board Members
Ian Campbell, CEO of OnScale
Tom Scarangello, CEO of Thornton Tomasetti
Ray Daddazio, President of Thornton Tomasetti
Grant McCullagh, Board Member of Thornton Tomasetti
K.P. Reddy, Venture-backed entrepreneur
Connect with OnScale
Connect with OnScale on LinkedIn
Follow OnScale on Twitter
About OnScale
OnScale, the global leader in CAE and Cloud HPC, empowers engineers to accelerate innovation for next-generation products such as 5G smartphones, Internet of Things (IoT) and biomedical devices, and driverless car products. The company emerged from stealth in 2018 with $3 million in Seed funding to deploy the first and only Solver-as-a-Service platform. The OnScale Solver-as-a-Service Platform combines sophisticated Computer-Aided Engineering (CAE) multiphysics solvers with the limitless power of cloud High Performance Computing (HPC) to remove performance and cost constraints of legacy CAE/HPC, reduce design cycles from months to weeks or even days, and deliver unequaled solver performance that easily scales to meet ever-changing CAE workloads. The OnScale leadership team includes successful entrepreneurs and award-winning experts in MEMS, semiconductors, CAE, Cloud HPC, biomedical and 5G RF technologies. For More Information visit: http://onscale.com/
Featured Product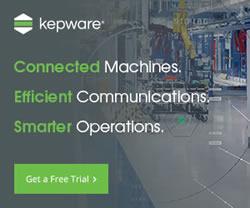 KEPServerEX is the industry's leading connectivity platform that provides a single source of industrial automation data to all of your applications. The platform design allows users to connect, manage, monitor, and control diverse automation devices and software applications through one intuitive user interface. KEPServerEX leverages OPC (the automation industry's standard for interoperability) and IT-centric communication protocols (such as SNMP, ODBC, and web services) to provide users with a single source for industrial data. The platform is developed and tested to meet our customers' performance, reliability, and ease-of-use requirements.