Ranked No. 1 in Manufacturing of SMT Line PCB Handling Equipment in Korea
DAEGU, South Korea--(BUSINESS WIRE)--With the introduction of Industry 4.0, establishment of fully-automated manufacturing systems for which all aspects of production, including SMT production facility operation and management, can be controlled centrally is expanding, particularly in advanced countries.

The PCB assembly process is a technology that can be applied to a broad range of areas, including the automobile, electrical, electronics, medical, and defense industries. Demand for manufacturing equipment, materials, and devices in the area of Surface Mounted Technology (SMT) has been increasing throughout the world due to the advancement of the automobile and IT, electrical, and electronics industries, in line with demand for their advanced functions.
Accordingly, YJ Link Co., Ltd., a company specializing in the manufacturing of Board Handling Equipment in SMT Line and serving global corporations in 45 countries as their main clients, announced that they have developed the Smart Conveyor System through improvement of the operational system of individual facilities and network interface in line with the rapidly-changing SMT market due to Industry 4.0.
YJ facility, which composes the SMART SMT LINE, is connected to the line control PC through LAN communication, and the customer can convey PCB information and operational orders to each YJ facility through the line control PC.
In addition, YJ smart facility, which enables the operator to monitor the status of the equipment in the line in realtime through the web server (mobile unit and PC, etc.), is being highlighted as the next-generation SMT solution to enhance customers' productivity and competitiveness.
In particular, the company independently developed the microcontroller-based "MICOM (Embedded System)" that can substitute the Programmable Logic Controller (PLC), which has been used since 1960 to provide full factory automation and fully-integrated management technology to customers.
YJ smart facility, to which MICOM is applied, is a system capable of controlling motor and digital signals, and higher and more advanced equipment operation control with higher work efficiency in comparison to the existing control system, PLC, through the application of a Graphical User Interface (GUI) for the facility interface. In addition, it is possible to establish an integrated control solution by expanding the product line from the basic control module to expandable and advanced type modules.
As a result, it is significant in that it enables the establishment of an integrated SMT LINE control system by supporting standard type architecture that can be applied to the smart factory manufacturing industry.
Core YJ smart facility technology, to which MICOM is grafted, can --automatically change models, --provide production history management and processing of an unlimited amount of data through LOG file, --provide realtime line monitoring for maintenance and repair of, and preventive services for, the facility, and --provide an environment for the establishment of a Manufacturing Execution System (MES)-linked integrated management system.
Along with this, YJ Automated Guided Vehicle (AGV) has been drawing extensive attention as the interests of countless customers throughout the world are being focused on smart factory.
In addition to the PCB loader and unloader that compose the SMT LINE, YJ AGV also automatically inputs and releases the magazine rack by linking to the customer's material warehouse. It increases the productivity of the customer's manufacturing line by securing the operator resources. AGV, with built-in safety sensors at 8 stages at the front and rear, operates smoothly and safely along the self-guided line and independently executes the tasks by coexisting with the operator in the SMT LINE. YJ AGV is a product that can be customized for manufacturing in a diverse range of configurations for the customer to readily apply it to their respective production lines.
Meanwhile, YJ Link Co., Ltd. is also spreading its reputation as a socially-responsible corporation that safeguards the dreams of children under difficult circumstances through regular contributions to ChildFund Korea.
Featured Product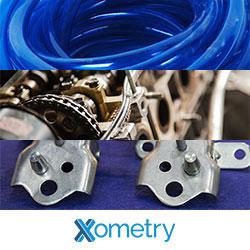 Xometry is your source for custom parts. Now, in addition to getting instant quotes on 3D Printing, CNC Machining, Sheet Metal, and Injection Molding, customers can create and send RFQs for die casting, stamping, and extrusion work to our nationwide network of pre-vetted manufacturers with just a 2D drawing. You will receive and be able to review responses from qualified shops within 7 days on an advanced web-based RFQ management platform. To learn more go directly to our site to issue and RFQ today. Stop wasting time managing RFQs through email and by phone, and start issuing RFQs at scale and in the cloud.