Collaboration Aims to Meet Growing Demand for Engineering Materials for Ultimaker 3D Printers
FORT WORTH, Texas, April 24, 2018 /PRNewswire/ -- Ultimaker, the global leader in desktop 3D printing, today at Rapid + TCT announced collaborative alliances with global material companies to meet the growing demand for industrial-grade engineering materials that are compatible with Ultimaker 3D printers. Ultimaker has partnered with DSM, BASF, DuPont Transportation & Advanced Polymers, Owens Corning, Mitsubishi, Henkel, Kuraray, Solvay and Clariant as part of an alliance program to enable high level engineering plastics and composites on Ultimaker machines.

Ultimaker will provide software based on extensive research and development, and material knowledge to allow the collaborating companies to generate and maintain material profiles so that customers can reliably use the materials on Ultimaker 3D printers. With the material profiles, users will be able to print automatically, using preconfigured settings available in Ultimaker Cura, the world's leading 3D printing software with well over two million users worldwide. The alliances will serve as a strong foundation for future collaborations, opening up doors for more advanced applications based on user demand.
"High quality 3D prints are the result of an optimized alignment of hardware, software and materials. The strategic alliances formed with these global material companies opens up the use of the most sophisticated engineering plastics on Ultimaker printers, allowing the customers of the companies and Ultimaker to fully embed 3D printing in their existing workflows," said Jos Burger, CEO of Ultimaker. "With these alliances, more 3D printing users are getting access to sophisticated materials for all kinds of use cases in different segments and industries."
According to IDC, the global spending on 3D printing technologies is expected to reach nearly $12 billion in 2018. As 3D printers become more popular in the enterprise, there is increased need for materials that can be used throughout the entire product development cycle. A large car manufacturer might use a specific plastic to create the majority of its parts and find value in 3D printing prototypes in the same material to have a better idea of the end result--or to print an end-use part immediately.
"The performance and reliability of Ultimaker 3D printers was key for us in the development of the XSTRAND™ composite filament," said Dr. Chris Skinner, Director of Front End Innovation at Owens Corning. "The reliable platform that the Ultimaker system provides enabled our team to efficiently develop high performance engineered solutions for this growing market. We use these systems day in and day out to enable both our and our customers' innovation."
Julien Guillen, Leader Additive Manufacturing at Decathlon's Add Lab: "We want to make sport accessible to the many by delivering quality, technical products for the best price. The larger build volume of the Ultimaker S5 now enables us to 3D print prototypes for even more product types such as footwear and helmets and many others. Due to the open filament system we can print these objects with the materials we prefer - we can test, fail, and improve. We can change the way we prototype, the way we create. This allows us to speed up innovation and evaluate new concepts in an earlier stage, which reduces time and costs. The Ultimaker S5, combined with Ultimaker Cura software, seamlessly fits in our development chain and the improved usability gives the Decathlon Add Lab's team the power to deliver the right products for our users, at the right time."
About Ultimaker
Ultimaker has been in operation since 2011, and over the years has grown to become a market-leader; creating powerful, professional and accessible desktop 3D printers with offices in the Netherlands, New York, and Boston, plus production facilities in Europe and the US. Ultimaker's team of over 300 employees continually strives to offer the highest-quality 3D printers, software, and materials on the market to accelerate the world's transition to local digital manufacturing.
www.ultimaker.com
Featured Product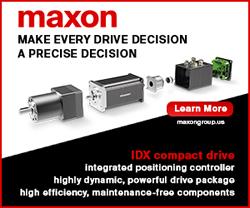 maxon motor launches new high-speed motors that are configurable online. The new ECX brushless motors are quiet and feature very high efficiency. The ECX motors are available with diameters of 8, 16 and 19 mm achieving speeds of up to 120,000 rpm. They run very smoothly and are highly efficient. With maxon motor's online configurator, it is easy to put together a customized DC motor to include gearhead, encoder and controller. The customized motors are ready to ship in 11 days!