Optomec LENS systems are the leading powder fed Directed Energy Deposition (DED) printers on the market, recently reaching 100 installations in 15 countries.
ALBUQUERQUE, N.M.--(BUSINESS WIRE)--Optomec, a leading global supplier of production grade additive manufacturing solutions, announced today that the company will showcase its industry proven Aerosol Jet Systems for Printed Electronics and LENS systems for 3D printed metals at the RAPID + TCT Conference this week. Highlighting its exhibition will be live demonstrations of the five axis Aerosol Jet 5x system for printed electronics, and video presentations of the industry-first and only atmosphere controlled LENS Hybrid System for additive and subtractive processing of metals, including titanium and aluminum. In addition, Optomec will display sample parts demonstrating conformal sensors, antenna and 3D interconnects for semiconductor packaging, as well as LENS produced metal parts, including a rocket jet nozzle which was built 10x faster than the build rate of powder bed fusion. Optomec will be located in booth 1718.

Optomec LENS systems are the leading powder fed Directed Energy Deposition (DED) printers on the market, recently reaching 100 installations in 15 countries. The new LENS 3D Machine Tool Series (MTS) enables 3D metal printing at roughly 1/3 the price of Powder Bed Fusion (PBF) systems, in terms of both equipment and powder cost. LENS DED systems are also 10x faster than PBF, and have the further benefit of enabling high ROI applications such as Repair and Wear Coatings.
In addition to the exhibition, Mr. Bryan Germann, Optomec Aerosol Jet Product Manager, will deliver a presentation at the conference titled "Functionalizing Structures via Aerosol Jet 3D Printed Electronics" in the RAPID Innovation Summit at 12:30 p.m. on Wednesday, April 25. Mr. Germann will discuss how structural electronics is emerging as a new way of adding intelligence into products such as automobiles, turbine engines, medical devices and building infrastructure. These functions can be used to sense, report on, and take or recommend corrective actions when products are deviating from their specifications. Optomec Aerosol Jet printers deliver the unique ability to print electronic and other materials onto any type of 2D and 3D structure, in dimensions ranging from 10 microns up to centimeters in scale. Aerosol Jet 3D printed electronics solutions have been deployed to add intelligence to products enabling continuous monitoring and feedback.
RAPID + TCT is an additive manufacturing event that showcases product innovations and offers collaborative learning opportunities to ultimately accelerate the adoption and advancement of the technology. For more information about the event, click here.
Optomec is a privately-held, rapidly growing supplier of Additive Manufacturing systems. Optomecs patented Aerosol Jet Systems for printed electronics and LENS 3D Printers for metal components are used by industry to reduce product cost and improve performance. Together, these unique printing solutions work with the broadest spectrum of functional materials, ranging from electronic inks to structural metals and even biological matter. Optomec has more than 300 marquee customers around the world, targeting production applications in the Electronics, Energy, Life Sciences and Aerospace industries.
LENS (Laser Engineered Net Shaping) is a registered trademark of Sandia National Laboratories. Aerosol Jet and Optomec are registered trademarks of Optomec Inc.
Featured Product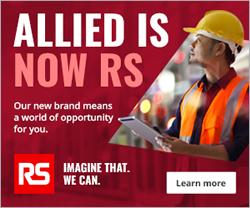 Imagine a global, end-to-end partner for industry - dedicated to solving your problems so you can drive your business forward. We can. On February 6, 2023, we officially changed our name to RS. It's just one way we're evolving to make our partnership and doing business with us even more rewarding. As RS, you have access to more support, more expertise, and more possibilities for your big and small projects - from concept and design to build and maintenance. Going forward, you'll see the RS logo on our website, social media, communications, and packaging. And rest assured, our current systems and procedures will remain intact to seamlessly process your order.