Need for flexibility, the ability to react quickly and ROI are key drivers for redPILOT adoption
KENNESAW, Ga.--(BUSINESS WIRE)--Today at MODEX 2018, KNAPP announced the release of redPILOT to the North American market. A control tower for warehousing and distribution, the redPILOT software leverages big data, predictive modeling and analytics, IoT technology and artificial intelligence (A/I) to deliver actionable insights to supply chain managers and leaders.

A startup of the KNAPP Group, redPILOT was formed to meet the emerging and unmet need of a supply chain that has the formidable task of dealing with myriad challenges on a daily and seasonal basis. According to Siegfried Zwing, President of redPILOT, "Supply chain challenges are complex - and range from dealing with daily order fluctuations and changes in order profiles, to managing labor scarcity and daily labor scheduling and maintenance, to the management of almost every other resource. There were no solutions on the market that met this need - a challenge expressed by almost every supply chain management professional."
Recognizing that flexibility and the ability to adjust quickly are the key to modern logistics, KNAPP began development almost three years ago with German grocer EDEKA. redPILOT was created by a team of KNAPP engineers and software developers working with a cross functional team of supply chain professionals from EDEKA with the goal of producing an application that was driven by the goal of improving key metrics. They produced a significant reduction in cost/case, based on a total cost of operations. Today the system is managing seven facilities with 5,000 employees, and the company plans to expand redPILOT across their distribution network.
Josef Mentzer, CEO of KNAPP Inc., also announced that KNAPP has reached an agreement with a Top 5 global retailer based in the US to deploy redPILOT at three initial US sites. According to Mr. Mentzer, "The performance of redPILOT in addressing the substantial and unmet need is truly an industry game changer. Its a significant move forward for our industry to be working more closely with customers not only to supply automated solutions, but to partner with them to operate facilities with more predictability, and at a significant reduction in cost."
About KNAPP
KNAPP is an internationally operating company and is one of the world market leaders in warehouse logistics and automation with over 3,600 employees worldwide. As a solutions provider, KNAPP provides one-stop, custom-designed intralogistics solutions in health care, retail, apparel, food, manufacturing and ecommerce sectors. Our clients experience results that are flexible, resource efficient, ergonomic and self-learning. The companys North American headquarters are in Atlanta, GA. For more information, visit www.knapp.com.
Featured Product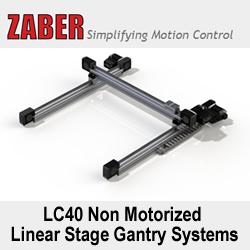 A Zaber gantry kit comes with everything you need to build a customized XY gantry system or XYZ gantry system. These gantry systems feature coordinated multi-axis motion, plug-and-play operation, easy integration with end-effector options, and built-in IO and E-Stop capabilities. An intuitive ASCII interface allows the user to easily communicate with the gantry systems using our free software, either Zaber Motion Library with APIs for several popular languages or Zaber Console. Third party terminal programs that can communicate over a serial port can also be used.