The new iPod touch SmartSled solution provides enhanced Barcode and RFID data collection experience to business users.
KOAMTAC®, Inc., a leading manufacturer of Bluetooth® barcode scanners, RFID readers and mobile point of sale (mPOS) companions is expanding its line of products, adding new KDC470 SmartSled® for Apple iPod touch and iPhone 7 Plus.

The new SmartSled has been created as an answer to the markets need for more rugged, modular and streamlined devices for collecting data via Barcode, RFID, and payment methods when connecting to a smart device.
KDC470 for iPod touch and iPhone 7 Plus can be customized in a variety of colors to match your businesss needs and branding and is equipped with high performance 1D or 2D barcode scan engine and provides convenient, fast and delicate scanning performance compared to camera-based solution. HF and UHF modules, extended battery packs, and pistol grip options are also available for the iPod touch. Other Apple smart devices such as iPhone and iPad can also be supported by the Bluetooth version of KDC470.
"Apple iPod touch helps many businesses to operate efficiently. Whether they are working in the warehouse, in a retail environment or in logistics, seamless charging and integration with our scanners takes efficiency to the next-level," explained Dr. Hanjin Lee, President/CEO of KOAMTAC.
KOAMTAC will have the iPod touch and iPhone 7 Plus KDC470 available for demos along with other smartphone solution, at booth 2030 at MODEX from April 9-12 in Atlanta, Georgia and at booth 1351 at RFID Journal Live in Orlando, Florida.
About KOAMTAC
KOAMTAC, Inc., headquartered in Princeton, New Jersey, produces a signature line of lightweight, ergonomically-friendly Bluetooth barcode scanners. With its unique patented design, all KOAMTAC products reduce the carbon footprint for the industry and provide consumers with a durable and enhanced solution. All products are universally compatible across current technology platforms and offer seamless use with various devices. The KDC20, KDC30, KDC100, KDC200, KDC250, KDC270, KDC300 and KDC350 are compact and light programmable Bluetooth and Wi-Fi barcode and NFC readers with a display on the market today. The KDC400 series are patented modular design SmartSled® for single-handed utility. The KDC500 is an EMV/MSR/Barcode/NFC Mobile POS Companion. For additional information or to place an order, visit http://www.koamtac.com, email the team at info@koamtac.com or call 609-256-4700. Join in on the conversation on Facebook, Twitter, and LinkedIn.
Featured Product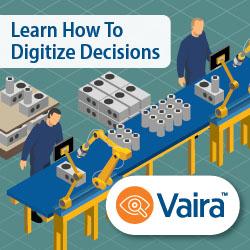 Pleora's Visual Inspection System helps operators detect errors and defects for unique component types, assembly steps, and custom low-run products where automated optical inspection (AOI) is too complex and expensive. The system helps DICA Electronics: Avoid costly, errors as a result of detecting errors at different phases in production, Speed time in detecting the root cause of the in-field errors with Tracking & Reporting apps for traceability, Maintain consistency in training new employees on requirements or with staff any time a new product is added, Easily train the system using 'good product' images for multiple product lines with no programming skills required, Reduce subjective decision-making, especially over a long shift, reducing error-escapes.