New hardware from Shop Floor Automations packs a one-two punch
La Mesa, CA (March 26th, 2018) - Shop Floor Automations (SFA), a notable Automation Supplier for the CNC Machine Tool Industry, has released a new hardware product to add USB and Ethernet connectivity to any machine.

The LAN-USB Connect became available from SFA as of March 2018. The hardware has many notable abilities that will be desirable for manufacturers.
The LAN-USB Connect provides the user the ability to drag and drop files from and to the CNC machine, utilizing an Ethernet connection via FTP protocol. No logon is required using anonymous logins, or security can be configured. These functions are achieved with no special software required to install.
Network outage protection also occurs via local server to CNC connection that is independent from the shop floors network.
The USB function of the device allows it to act as an interface between commercially available USB sticks and any CNC control with a functioning RS232 port. Machine programs can be sent from the CNC memory to the USB stick, or USB to CNC memory, or can be drip-fed (DNC) from the USB.
Flexible CNC communication firmware is built into the unit. This allows for connection to a large variety of machine tool controls. The device buffers the entire program at the machine, and acts as a dedicated computer that responds instantaneously to data flow changes from the CNC.
Positioning this device on the control allows the machine to run at its maximum baud rate. This will prevent a machinist from having to walk back and forth from the DNC PC to the machine in order to initiate machine operation.
More benefits to this device come with the financial freedom of keeping an older machine in operation longer, rather than retrofitting a machine with new controllers, or replacing a machine all together. The hardware replaces cost-prohibitive measures of adding OEM memory or USB to the machine in a proprietary manner from the machine tool builder.
The LAN-USB Connect works with a majority of CNC controls on the market with a serial port. For instance, it has been tested with Haas, Mazak, Hurco, Fadal, Mitsubishi, Mori Seiki, Okuma, Siemens, and more brands. This device is also available in a "headless" version, as well as a low-cost wireless version.
About SFA: Shop Floor Automations is a manufacturing integrator who just celebrated their 20th year in business servicing the manufacturing industry. We are on social media on Twitter @SFA_Inc, as well as on Facebook, YouTube, & Instagram under our company name. Call for more info at (877) 611-5825 or Email info@shopfloorautomations.com
Featured Product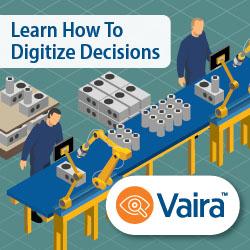 Pleora's Visual Inspection System helps operators detect errors and defects for unique component types, assembly steps, and custom low-run products where automated optical inspection (AOI) is too complex and expensive. The system helps DICA Electronics: Avoid costly, errors as a result of detecting errors at different phases in production, Speed time in detecting the root cause of the in-field errors with Tracking & Reporting apps for traceability, Maintain consistency in training new employees on requirements or with staff any time a new product is added, Easily train the system using 'good product' images for multiple product lines with no programming skills required, Reduce subjective decision-making, especially over a long shift, reducing error-escapes.