Market leader in collaborative robotics is ready to automate the warehousing and logistics industries with exhibits including cobots in new intelligent material handling solutions from RightHand Robotics and Schmalz
Ann Arbor, MI, March 20, 2018: Warehouse processes such as order fulfillment require the ability to recognize and pick a wide range of items that are different sizes, weights, and materials, often jumbled together in bins. While traditional industrial robots usually stay bolted down in protective cages, dedicated to one handling task only, collaborative robots, or cobots, effectively address this automation challenge with flexible implementation and low upfront cost. At MODEX booth C2454 from April 9-12 in Atlanta, GA, Universal Robots will showcase its collaborative robot arms in new applications, giving attendees hands-on experience with the next generation of automation solutions for the supply-chain industry. RightPick.AI™ from RightHand Robotics (RHR) is the first vision-guided machine learning-based software designed to enable autonomous "lights out" robotic item-picking for warehouse order fulfillment. Learning from both sensor feedback of the RightHand Robotics intelligent gripper and an integrated vision system, RightPick.AI provides the "brains" behind the RightPick solution suite for e-commerce fulfillment operations.

RHR co-founder Leif Jentoft, PhD refers to RightPick.AIs flexible grasping capabilities as the "holy grail" in robotics technology: "RightPick.AI-enabled piece-picking delivers 'The Three Rs - range of items, rate of picking, and reliability of the customer getting what they ordered," he says. RightPick.AI can run on any robot arm, but RHR chose Universal Robots as they can safely work side-by-side with humans in warehouse environments. "To have collaborative arms as user-friendly as the UR systems gives us a very accessible solution," says RHR business development team member, Nadia Cheng, PhD. "I was super impressed by how easy it was to use, and how elegant the whole process was."
RightPick.AI enables validated picking and placement of the industrys widest range of items (SKUs) regardless of orientation - including items the system has not seen before, eliminating the need for 3D CAD models of new SKUs. The system can handle a variety of customer workflows, such as picking items from ASRS (Automate Storage and Retrieval Systems), inducting items onto sorters, sorting batch-picked items to put walls, and order quality assurance. Utilizing machine learning, the system becomes increasingly more intelligent, expanding the range of pickable SKUs and first-pick success, as well as pick and place validation capabilities.
Another testament to the UR cobots flexible deployment potential on display at MODEX is the new Electrical CobotPump (ECBPi) - a new generation of intelligent vacuum generators that do not require compressed air, developed by Schmalz. The intelligent vacuum generator enables purely electrical operation and is able to handle airtight and slightly porous pieces. The CobotPumps programming interface is integrated directly on the UR cobots touch screen through the UR+ platform that certifies and showcases 3rd party plug & play products for UR cobots. The CobotPump will be exhibited with Schmalz Vacuum End Effector (VEE), a flexibly configurable component kit that can be assembled by the customer to fit the workpiece and application they are working with.
Justin Katz, manager with Schmalz Vacuum Components Group, sees Universal Robots as a perfect fit for Schmalz: "The Electrical Cobot Pump, ECBPi, is ideal for collaborative robot use, mobile robotics and fully automated handling of small parts, as well as stationary handling tasks. Were excited to show MODEX attendees the synergy of our products working in tandem," he says.
Area Sales Manager with Universal Robots, Brian Dillman, says the companys booth applications will appeal to any MODEX attendee who needs to reduce picking fulfillment and intralogistics costs reliably at scale, while expanding operations quickly with minimal capital outlay. "Were looking forward to our MODEX debut. Its encouraging to see the supply chain industry embrace our cobots and were expecting significant demand from this sector in the near future, especially in regions with tight labor markets," he says.
UR robots will also be exhibited in the following MODEX booths:
EuroSort, B4137 - UR5 robot as part of the RightHand Robotics RightPick piece-picking solution demonstrating live robotic induction to a EuroSort Bomb Bay Sorter.
RightHand Robotics, B4087 - UR5 robots as part of the RightPick piece-picking solution that can handle a large range of items reliably and at high rates for the e-commerce supply chain industry.
SencorpWhite, B3069 - UR5 robot as part of the RightHand Robotics RightPick piece-picking solution demonstrating live robotic picking from a SencorpWhite ASRS.
Vecna, B4987 - UR5 robot as part of the RightHand Robotics RightPick piece-picking solution demonstrating live robotic picking for order consolidation with Vecna RC20 mobile robots.
About Universal Robots
Universal Robots was co-founded in 2005 by the companys CTO, Esben Østergaard, who wanted to make robot technology accessible to all by developing small, user-friendly, reasonably priced, flexible industrial robots that are safe to work with. Since the first collaborative robot (cobot) was launched in 2008, the company has experienced considerable growth with the user-friendly cobot now sold worldwide. The company, which is a part of Teradyne Inc., is headquartered in Odense, Denmark, and has subsidiaries and regional offices in the United States, Germany, France, Spain, Italy, Czech Republic, Turkey, China, India, Singapore, Japan, South Korea, Taiwan and Mexico. In 2017, Universal Robots had revenue of USD 170 million. For more information, please visit www.universal-robots.com or read our blog at blog.universal-robots.com.
Featured Product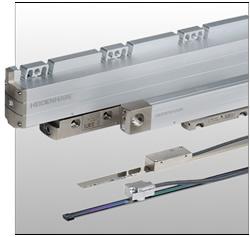 Nothing beats the positioning accuracy of linear encoders from HEIDENHAIN. Available in absolute and incremental versions and ideal for a variety of applications-including machine tools, semiconductor machines and medical machines-these measuring solutions combat a variety of issues that erode precision.