Public Pre-Sale is First-of-its-Kind Manufacturing Token for the Supply Chain Industry
San Francisco, California - January 1, 2018 - SyncFab Co. ("SyncFab" or "the Company"), a leading business-to-business procurement and supply chain management platform for precision parts production, today announced that the Company launched its public Pre-Sale ("PreSale") of the ERC20 Ethereum MFG utility tokens in partnership with Smart MFG Tech Ltd. ("Smart MFG Tech").

With no minimum required purchase, the public Pre-Sale is the first-of-of-its-kind for the general public. Previously, SyncFab offered a private Pre-Sale for qualified hardware innovators and manufacturing industry participants and supporters last month.
Smart MFG Tech Director, Hikaru Yuki commented, "Smart MFG Tech is very excited to be working together with SyncFab on this important undertaking in a lynchpin industry for blockchain. A 2017 Deloitte executive survey reported the highest number of industry leaders exploring blockchain solutions for implementation in the manufacturing and supply chain industries and we expect this trend to continue to lead in blockchain use cases both in number and business feasibility going into 2018 and beyond."
Founder and CEO of SyncFab, Jeremy Goodwin, further added, "We have received overwhelming support from end users and industry professionals regarding our plan to implement digital tokens to incentivize working class manufacturers to adopt our blockchain solutions. Now with our public Pre-Sale, we look forward to widening the scale of our offering and boosting utilization rates in small independent machine shops and enhancing cost savings for large industrial buyers."
Upon initiation, procurement teams in manufacturing companies will be able to utilize the tokens to facilitate incentivized RFQ's for precision parts procurement from a growing network of CNC machine shops followed with data collection and smart contract execution following subsequent development. Following years of development effort both online and in the field, the public Pre-Sale marks a significant milestone for SyncFab's secure platform, which will broker many procurement transactions in a faster and more secure procedure online.
For more info on the MFG token sale, please visit https://tokensale.syncfab.com/.
*SyncFab reserves the right to end any sales when allocation is exhausted or when it deems appropriate. Buyers should read the whitepaper and token sale terms and conditions before making purchases.
About SyncFab
Founded in 2013 and now headquartered in Silicon Valley, SyncFab is an active provider of best-in-class low-cost precision parts production solutions to supply chain buyers and domestic manufacturers. The company is revolutionizing the manufacturing industry with blockchain to incentivize the blue collar working class for time they're currently not compensated for while improving responsiveness for small and medium-sized hardware buyers. The platform matches industrial parts purchasers with a growing network of machine shops and advanced manufacturing facilities mapped by who is local and who is clean - an ISO 50001 US DOE certification for efficient energy management. SyncFab's state-of-the-art B2B ecosystem enables sustainable local advanced manufacturing economy by allowing buyers to procure, manage, and track parts production online. The ecosystem makes local production more desirable and profitable and makes procurement bidding processes more transparent through the power of the Internet, blockchain, and online payment. SyncFab collaborates with federal and municipal government initiatives in public-private partnerships to advance civic innovation and economic development. For more information on SyncFab, please visit https://syncfab.com; for information on the Token Sale, please visit https://blockchain.syncfab.com.
Featured Product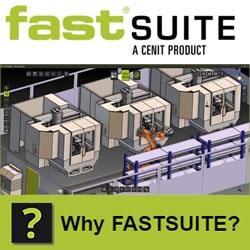 With two product lines, FASTSUITE for V5, which is seamlessly integrated with CATIA/DELMIA V5, and FASTSUITE Edition 2, a standalone platform, the areas of OLP (offline programming), manufacturing simulation and virtual commissioning are the core of our business activities. Our applications and solutions are not only focused on real customer needs, but they are also designed to improve efficiency and quality of our customers' manufacturing processes. No matter if the process is just about offline programming of a single robot at a small job-shop company or about the validation of a complete production line at an Automotive or Aerospace OEM. We strive to ensure a constant quality of our services and to provide the best possible support to our worldwide customers. Therefore we have established three digital manufacturing hubs around the world. All our teams have a proven expertise on manufacturing process integration and profound IT implementation skills.