This will allow Ultimaker to accelerate product development and invest in additional sales, marketing and R&D resources, which will help Ultimaker to expand on their already leading global market position.
CAMBRIDGE, Mass., Oct. 25, 2017 /PRNewswire/ -- Ultimaker, the global leader in desktop 3D printing today announced that it has come to an agreement with NPM Capital, a leading private equity firm. NPM Capital invests a significant undisclosed amount to provide Ultimaker with growth capital. This will allow Ultimaker to accelerate product development and invest in additional sales, marketing and R&D resources, which will help Ultimaker to expand on their already leading global market position.

Ultimaker has experienced explosive growth since it was founded in 2011. With offices in The Netherlands and the USA, the company has built a worldwide distribution network selling its products in over 100 countries. The company is market leader in the high-end segment of industry grade desktop 3D printers. Key customers come from a large variety of markets in areas like product design, engineering, research, manufacturing and education. Ultimaker has proven to be very attractive in these areas because of its accessibility, ease of use, high quality results and extensive material support.
Ultimaker CEO Jos Burger explains: "I look forward to working with NPM Capital. They have a great and solid reputation as a committed longer term investor. NPM Capital has a flexible investment horizon focused on long term value creation. The company is not driven by the need to make a rapid exit, which enables us to continue our growth at a pace that our markets require. With the additional funding and support from NPM Capital we now have the ability to accelerate innovation and further empower professionals worldwide with the tools and knowledge required for them to stay ahead in a rapidly changing business environment."
For NPM Capital, Ultimaker is an exciting investment in a very attractive market, led by an impressive management team. Bart Coopmans, managing director of NPM Capital says: "Ultimaker fits in our strategy of investing in technology based growth platforms. We are impressed by Ultimaker's leading market position and clear growth strategy. We believe Ultimaker has a sustainable competitive advantage stemming from its integrated platform of hardware, software, materials and support network. Together with a strong community, an ambitious team of professionals and a highly-committed leadership, Ultimaker is very well positioned for further growth. We really look forward to working closely together with the Ultimaker team on their fascinating journey."
Ultimaker's three founders Martijn Elserman, Erik de Bruijn and Siert Wijnia will remain as shareholders alongside NPM Capital, which is part of a family-owned multinational SHV, who will become a majority shareholder.
About NPM Capital
NPM Capital is a leading investment company focusing on long term investments in the Benelux market. Founded in 1948, NPM Capital has a history of providing growth capital to entrepreneurial companies that goes back almost 70 years. NPM Capital is part of the family-owned multinational SHV. SHV has a total turnover of €18.1 billion with around 60,000 employees.
About Ultimaker
Ultimaker has been in operation since 2011, and over the years has grown to become a market leader; creating powerful, professional and accessible desktop 3D printers. With offices in the Netherlands, New York, and Boston, and production facilities in both Europe and the US, Ultimaker's team of over 300 employees continually strives to offer the highest-quality 3D printers, software, and materials on the market.
Featured Product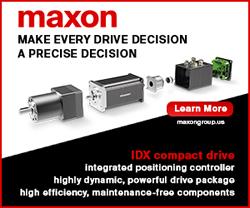 maxon motor launches new high-speed motors that are configurable online. The new ECX brushless motors are quiet and feature very high efficiency. The ECX motors are available with diameters of 8, 16 and 19 mm achieving speeds of up to 120,000 rpm. They run very smoothly and are highly efficient. With maxon motor's online configurator, it is easy to put together a customized DC motor to include gearhead, encoder and controller. The customized motors are ready to ship in 11 days!