Cubibot introduces an affordable, portable, plug-and-play to a new generation of mainstream that doesnt require special expertise to achieve top-quality 3D printing
Cubibot, the worlds most compact 3D printer with cloud-printing capabilities, heated bed and a host of other features, proves to be a big hit with crowdfunders - who have sent presales of the compact, 3D printer over the $300,000 mark on Kickstarter.

"The overwhelming response in the first 24 hours of our campaign serves as a strong validation from the 3D printing community and everyday consumers that we have included the perfect combination of features in Cubibot for professional and home-use," said Cubibot Co-founder Aria Noorazar. "We designed Cubibot to achieve a balance between functionality and ease of use without compromising features - and set out to offer it at an affordable price."
Noorazar and his team have worked for more than two years to perfect Cubibot - which makes 3D printing accessible to the masses and it does not require 3D printing expertise.
"If you can setup and use a regular printer, you can use Cubibot," he said.
Cubibot has a stylish design, with interchangeable side cover colors to give it a dynamic design and perfect fit for any lifestyle. and a compact size so it fits onto any tabletop. Users can print wirelessly from anywhere in the world with an Android or iOS device, can print any model through its web-based platform, and its heated bed allows printing with a wide range of materials.
With features such as filtered ventilation, heated bed and the ability to print a wide range of materials, Cubibot is ideal for engineers who want to see and feel their computer-aided design (CAD) products, hobbyists that print parts for fun or for their business, for students using Cubibot to learn, or for anyone who simply wants to create or customize everyday objects for the home.
With Cubibot, consumers, students, designers, and artists alike can experiment with new ideas and make technical prototypes.
Features include:
Fully automated smart self-leveling build platform for ease of use
Filtered ventilation with replaceable filter for safer 3d printing
Wi-Fi enabled for wireless connectivity
Heated print bed to print with a wide range of materials
Cloud-printing capabilities with cloud side slicing engine
Plug-n-print. all you need to do is plug it in and click on print
Modern design to match anyones individual lifestyle
Prints in PLA, specialty PLAs, ABS, Nylon, and more
Smart status notification provides project status at all times
Easily accessible web-based platform
Easy release (as bed cools down the printed part is easily removable)
Android app for mobile use
iOS app for mobile use
No setup required
High-temperature nozzle allows printing with more advanced materials
Interchangeable side accent vibrant colors for a dynamic design
Printer Specifications are:
Exterior dimensions are only 10" x 10" x 10"
Print sizes: 5" X 5" X 5", 125 Cubic inches
Resolution: 50 - 300 microns
Print Speeds up to 80 mm/s
Software: Web based Web based platform
Software Compatibility: Windows 7 and 8, Android, iOS, Mac
Connectivity: Wi-Fi, Cloud, USB
Both smart and consumer friendly. Cubibot comes ready loaded with CubiSoft - Cubibots easy-to-use Web-based software, for an out-of-the-box experience designed to be as simple or as comprehensive as necessary for both 3D printing enthusiasts and everyday consumers. Once the design is uploaded from any local device or from Cubibot's cloud servers, the software will automatically position the model for print. Users are then able to add, delete, or re-position their model. If happy with the design, they just click print.
The printer has a built-in, filtered ventilation system, a critical feature that many consumer 3D printers lack, which make it a safer 3D printer than non-filtered 3D printer. Users also have the option of disabling Cubibots heated bed at a click of a button for anyone who prefers to only use PLA for printing.
"Other than its affordable price, probably the best thing about Cubibot is that it gives people the freedom to create their designs whether theyre already 3D printer pros or if theyre completely new to 3D printing," Noorazar added.
To purchase Cubibot, which is continuing early-bird discounts during crowdfunding, or for more information, visit the Cubibot Campaign Page on Kickstarter.
Featured Product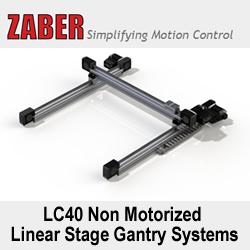 Zaber's X-LRQ-DE Series of linear stages have high stiffness, load, and lifetime capabilities in a compact size. The integrated linear encoder combined with stage calibration provides high accuracy positioning over the full travel of the device. At 36 mm high, these stages are excellent for applications where a low profile is required. The X-LRQ-DE's innovative design allows speeds up to 205 mm/s and loads up to 100 kg. Like all Zaber products, the X-LRQ-DE Series is designed for easy set-up and operation.