SCHAUMBURG, IL (September 2017) - HEIDENHAIN's new LIC 4100 V linear encoder for vacuum environments is a new addition to the successful LIC 4100 linear absolute kit style encoder system. With several technical considerations, these new encoders can operate down to 6*10-7 mbar, survive a 100oC bake out, and have low outgassing. Industries that could take advantage of this encoder are semiconductor and carbon fiber manufacturing.

The LIC 4100 V encoder system uses a glass scale that can be of a normal or zero thermal growth material attached to the equipment with a clamping system. The glass scales can be up to 3 meters in length. For longer lengths of up to 27 meters, a stainless-steel tape scale can be used with an extrusion that is screwed to the machine axis. Accuracies of the glass scale can be to +/- 3 microns, and the longer length tape scales can be to +/- 5 microns per meter.
The LICA 4100 V scanning unit has special design criteria, including vents to allow for quick pump down times, a cable with PTFE wire insulation and a tin-plated braid for shielding. All internal components were selected for high temperature usage as well as low outgassing specification. The absolute resolution can be down to 1 nanometer, and comes in several electrical interfaces including EnDat 2.2, Fanuc, Mitsubishi and Panasonic serial interfaces. Special handling and packaging procedures are used during manufacture, where two levels of packaging are used along with a nitrogen flush. A vacuum feedthrough can also be purchased as an accessory.
HEIDENHAIN CORPORATION is the North American subsidiary of DR. JOHANNES HEIDENHAIN GmbH, a leading international manufacturer of precision measurement and control equipment. The product line includes linear scales, rotary and angular encoders, digital readouts, length gauges, CNC controls, and machine inspection equipment.
Featured Product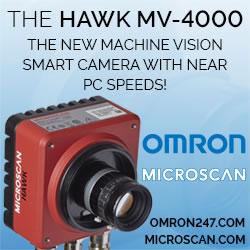 Awe-inspiring power and superior flexibility is sheathed within the contoured casing of the HAWK MV-4000. This smart camera builds upon the previous generation by quadrupling processing power and achieving real-time trigger response using an FPGA. Its state-of-the-art algorithms make it an excellent tool for any industry, whether the requirement be code reading, code verification, inspection, guidance, gauging or a combination of all four.