First to enable end-to-end solution for high-performance and scalable machine learning for IoT data
NEW YORK--(BUSINESS WIRE)--MapR Technologies, Inc., a leader in delivering one platform for all types of data across every cloud, and C3 IoT, the leading AI and IoT software platform for digital transformation, are partnering to provide an end-to-end solution for AI and/or IoT applications. Announced at Strata Data Conference, this partnership will address the large and growing market opportunity for a new generation of enterprise software that requires intelligent applications based on AI and IoT.

C3 IoT and MapR are collaborating on new technology developments and go-to-market initiatives that enable rapid deployment of mission-critical, secure intelligent applications for commercial and public sector use cases, including real-time fraud detection, cyber and physical security, and predictive maintenance across industries such as healthcare, insurance, and manufacturing. This new partnership will provide both faster time to value for joint customers as well as broader deployment options, allowing applications to leverage any combination of public cloud, private data center, and edge computing technologies.
According to Forrester Research, "Enterprise interest in AI is surging… We expect enterprise interest in, and use of, AI to increase as software vendors roll out AI platforms and build AI capabilities into applications. Enterprises that plan to invest in AI expect to improve customer experiences, improve products and services, and disrupt their industry with new business models."1
Time to market to deploy end-to-end AI and IoT solutions is crucial for realizing business value. In just weeks, C3 IoT and MapR enable organizations to prove and deploy complete production applications. An end-to-end application leveraging the combined platforms from C3 IoT and MapR can aggregate data from numerous enterprise systems, Internet data feeds, and large-scale sensor networks, and process data in real-time with an AI/machine learning engine.
"The opportunities for industrial and commercial organizations to adopt digital technology for productivity improvements and new business creation are unprecedented," said Ed Abbo, president and CTO, C3 IoT. "In leveraging the MapR Converged Data Platform with the C3 IoT Platform and AI applications, we are empowering companies to establish competitive advantage in the rapidly emerging era of smart connected products. MapR brings proven scale, reliability, and speed that will enable C3 IoT customers to create breakthrough applications faster and yield greater value from their data investments."
A key pillar of digital transformation is to enable the seamless integration of new intelligent applications with the legacy data and applications that continue to underlie critical business processes. With full support for legacy applications and multi-tenancy, the MapR Converged Data Platform empowers organizations to maintain those existing mission-critical systems and leverage enterprise data sets in conjunction with new AI and IoT applications and development tools operating on the C3 IoT Platform.
"MapR and C3 IoT share a vision for AI and IoT as the most transformative technology of the modern era. Our cooperation ensures that the next generation of enterprise software is secure, reliable, and leverages the full potential of AI and IoT while at the same time providing a bridge from the legacy world to the next-gen world," said Matt Mills, CEO, MapR. "This approach is crucial for our customers who are taking a pragmatic approach to digital transformation. Together, we are building a rock-solid foundation for the future of digital business. C3 IoTs tools can harness the power of MapRs database, persisted streaming, global data store, and edge computing capabilities in one platform to allow our customers to win with data faster."
Fortune 1,000 companies are rapidly standardizing on both the MapR Converged Data Platform and the C3 IoT Platform in production across industries - including manufacturing, healthcare, financial services, oil and gas, and energy - as CEOs drive digital transformation initiatives requiring AI and IoT across the enterprise.
C3 IoT and MapR will showcase their joint IoT solution at Strata, including presentations at 1pm on Wed., Sept. 27 and on Thu., Sept 28 in the MapR booth (#415).
About MapR Technologies
MapR Technologies has pioneered one platform for all types of data across every cloud. We enable companies to harness the power of all of their data with the MapR Converged Data Platform. With the MapR Platform, companies can do analytics and applications together as data happens to create intelligent, next-generation applications to outperform the competition. Global 2000 enterprises are using the MapR Platform to help them solve their most complex data challenges. Amazon, Cisco, Google, Microsoft, SAP and other leading businesses are all part of the MapR ecosystem. For more information, visit www.mapr.com.
About C3 IoT
C3 IoT is the worlds leading AI and IoT software platform for digital transformation. C3 IoT delivers a comprehensive platform as a service (PaaS) for the rapid design, development, and deployment of the largest-scale big data, predictive analytics, AI, and IoT applications for any business value chain. C3 IoT also provides a family of configurable and extensible SaaS products developed with and operating on its PaaS, including predictive maintenance, fraud detection, sensor network health, supply chain optimization, investment planning, and customer engagement. More information is at https://c3iot.com.
1 "Artificial Intelligence: Whats Possible for Enterprises in 2017," Forrester Research, by Mike Gualtieri, Nov. 1, 2016.
Featured Product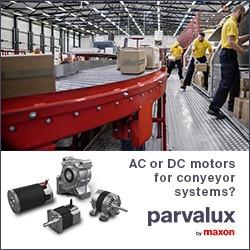 British-made Parvalux geared motors are used in a huge range of industrial applications in almost 80 countries. We manufacture conveyor belt motors, automatic shutter motors, packaging motors and much more. When you need reliable operation, you can trust Parvalux to safely power your application.