CloudTRAC is the next generation of stand-up resealable pouch machine debuting at Pack Expo 2017 in Las Vegas
DES PLAINES, Ill.--(BUSINESS WIRE)--At Pack Expo 2017 Las Vegas, Cloud Packaging Solutions will unveil the next evolution in stand-up pouch technology, CloudTRAC. CloudTRAC is the industrys first one-touch, auto-changeover, servo-driven stand-up, resealable pouch (SURP) machine. Five years in development, CloudTRAC sets new speed, performance, efficiency, and quality benchmarks in SURP production equipment.

The leader in high-speed pouch and pod technology, CloudTRAC represents the next generation of horizontal SURP technology. Mechanical controls and expensive, time-wasting manual change-overs are replaced by one-touch auto-changeovers, reducing downtime and increasing efficiency. The fully servo-driven machine eliminates chains, creating a near maintenance-free high-speed platform.
"We began with a new chassis design and then re-imagined the entire SURP cycle, keeping the best and getting rid of the rest," said Mike Werner, VP and general manager of Cloud. "In an industry awash in me-too machines chained to the past, our chain-free, servo-driven CloudTRAC enables zero-time auto-changeovers, a 2X speed increase, recipe-based controls, while also improving quality and lowering scrap. Our customers see this as a game-changing technology."
CloudTRAC joins Clouds complete line of stand-up pouch machines, ranging from entry-level platforms to high-speed continuous motion HFFS machines. The company sees CloudTRAC as the first in a family of servo-driven platforms that produce fresh competitive advantage for food and CPG companies.
"We have followed CloudTRAC development and are looking forward to adding CloudTRAC to our enterprise," said Dwayne Hughes, SVP of Hearthside Foods. "We have multiple Cloud high-speed machines today and see CloudTRAC as a platform to lower our workforce requirements, decrease changeover times, and significantly increase volume. Its a home run."
Cloud representatives are demonstrating the new CloudTRAC machine during Pack Expo 2017, booth C5033. Shipments to begin in Q4 2017. Full specifications can be found here or the Cloud website.
Cloud Packaging Solutions, the speed and technology leader in multiple pouch and pod categories, is based in Des Plaines, Illinois. Cloud produces stand-up pouch, form-fill-seal, and soluble pouch machines operating at speeds up to 5,600 units per minute. Cloud machines are used by food and CPG companies worldwide. Founded in 1929, Cloud is part of Hearthside Food Solutions. www.cloudeg.com.
Featured Product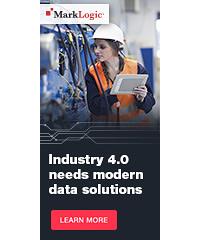 Use Data to Deliver Efficiency, Reduce Risk, and Create Better Products. Disruptive technologies and market changes are transforming the manufacturing industry, requiring a new focus on optimizing use of data and information. It all adds up to a new industrial revolution called Industry 4.0. Organizations who want to realize the potential of this revolution need to "Industrialize their data," making it a core asset to deliver better products and customer service, navigate complex business environments, and transform for the future. MarkLogic customers are delivering on this vision for data with a proven architectural pattern called the Operational Data Hub that simplifies the integration of data along the digital thread to power operational and analytic use cases across the enterprise.