New wide-web coating system uses simultaneous 2-sided process to produce up to 3 GWhr of battery electrode output annually, creating enough capacity for 30,000 electric vehicles configured for 100 kWh or 5 hours of backup power for 300,000 homes based on average consumption of 2 kWh.
B&W MEGTEC Introduces the GigaCoater™ for Lithium-Ion Battery Electrodes

New wide-web coating system uses simultaneous 2-sided process to produce up to 3 GWhr of battery electrode output annually
(De Pere, Wis. - Sept. 12, 2017) Babcock & Wilcox MEGTEC (B&W MEGTEC), a subsidiary of Babcock & Wilcox Enterprises, Inc., has launched the GigaCoater™ wide-web coating line for lithium-ion battery electrodes.
Developed to provide high-volume production of battery electrodes, each GigaCoater can produce up to 3 GWhr of electrode per year on average. The GigaCoater coating platform utilizes B&W MEGTEC's exclusive simultaneous 2-sided coating system.
"The energy storage industry is demanding a significant reduction in production costs in combination with increased yields and product quality," said Jeff Quass, vice president of technology and development, B&W MEGTEC. "The GigaCoater offers increased foil width and faster speeds. Coupled with our simultaneous two-sided coating system, the GigaCoater provides a simplified coating line that approximately doubles manufacturing capacity within the same footprint as a single-side sequential line."
The dual-coating method, in combination with coating rheology and GigaCoater machine properties, maximizes production time and delivers in-line quality control. Additional GigaCoater specifications include:
• Web width of 1,300 mm
• Coating width of 1,200 mm
• Mechanical speed of 50/m/min
• Process speed of 40 m/min
• Wet coat weight of up to 400 gsm/side
"Manufacturing large quantities of lithium-ion battery cells requires a significant change and dimensional up-scaling of the production equipment and output per line to achieve industry targets," Quass notes. "At the same time, the benefits of two-sided simultaneous coating technology become increasingly important the wider and faster coating lines are required to get."
The GigaCoater maximizes manufacturing at a significantly lower total production cost with:
• 50 percent to 70 percent less floor space than typical single-side coating operations, which allows for more efficient plant layouts
• Thermal efficiencies that deliver lower energy requirements
• A wide-web width that significantly reduces the number of coils needing to be handled
• Simplified material flow that enhances overall throughput
• Higher automation that maximizes production volume
About B&W MEGTEC
Babcock & Wilcox MEGTEC, a subsidiary of Babcock & Wilcox, designs, engineers, manufactures and services sophisticated air pollution control systems, and coating and drying equipment for the industrial sector.
About B&W
Headquartered in Charlotte, N.C., Babcock & Wilcox is a global leader in energy and environmental technologies and services for the power and industrial markets, and has been transforming our world for 150 years. B&W companies employ approximately 5,000 people worldwide. Follow us on Twitter @BabcockWilcox and learn more at www.babcock.com.
Featured Product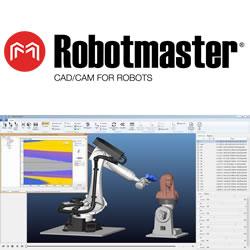 Since Robotmaster V7 uses integrated CAD/CAM functionality, for the first time, the power of Robotmaster can be used by welding, cutting and other process experts without buying or learning complex CAD/CAM software. As in past versions, Robotmaster V7 imports paths, but now makes it even easier for end users to leverage any CAD/CAM tool choice. It is an intuitive tool that anyone could use, with or without robotics expertise. It bridges the gap between robots and manufacturing by providing easy programming solutions for part manufacturing.