Materialises patient-specific implants will be distributed by DePuy Synthes under the TRUMATCH® CMF brand name
LEUVEN, Belgium--(BUSINESS WIRE)--Materialise NV (Nasdaq:MTLS) announced today that U.S. patients can now benefit from their patient-specific implants, 3D-printed in titanium for maxillofacial surgery. As the first 3D-printed titanium maxillofacial implants to receive clearance for the U.S. market, the decision marks a further extension to Materialises longstanding collaboration with DePuy Synthes, who will distribute the device in the U.S.

"As the first of our extensive selection of implants to receive clearance for the U.S. markets, the decision is a real milestone for our medical department"
Tweet this
The TRUMATCH® titanium 3D-printed implants are part of a personalized total solution for orthognathic surgery, also known as corrective jaw surgery, as well as for facial reconstruction. From virtual surgical planning to the 3D-printed implants used in combination with 3D-printed surgical guides, the system can help achieve better aesthetic results and minimize surgery time for patients. It has achieved positive results in European and Australian markets since its introduction in 2016.
These are the first 3D-printed titanium maxillofacial implants to receive clearance for the U.S. market, making 3D printing technology more accessible than ever for the U.S. healthcare industry. The solution relies on the Materialise backbone of services, tapping into their software development, clinical engineering and 3D printing production facilities.
"As the first of our extensive selection of implants to receive clearance for the U.S. markets, the decision is a real milestone for our medical department," said Brigitte de Vet, Vice President of Materialise Medical, "Thanks to our partnership with DePuy Synthes, our devices will be able to provide better healthcare for as many patients as possible."
"For seven years now Ive experienced the benefits of 3D-printed implants firsthand - they simplify maxillofacial surgery and allow me to perform procedures more accurately, saving time in the OR and improving patient outcomes. Moreover, they offer new treatment possibilities, allowing me to perform more complex surgeries or multiple procedures in a single intervention whereas without the implants several interventions would be necessary," said Dr. Thomas Schouman, CMF surgeon at Groupe Hospitalier Pitié Salpêtrière, France.
About Materialise
Materialise incorporates more than 25 years of 3D printing experience into a range of software solutions and 3D printing services, which together form the backbone of the 3D printing industry. Materialises open and flexible solutions enable players in a wide variety of industries, including healthcare, automotive, aerospace, art and design, and consumer goods, to build innovative 3D printing applications that aim to make the world a better and healthier place. Headquartered in Belgium, with branches worldwide, Materialise combines the largest group of software developers in the industry with one of the largest 3D printing facilities in the world. For additional information, please visit: www.materialise.com.
About Materialises Medical Division
Materialise Medical, which has pioneered many of the leading medical applications of 3D printing, enables researchers, engineers and clinicians to revolutionize innovative patient-specific treatment. Materialise Medicals open and flexible platform of software and services, Materialise Mimics, forms the foundation of certified Medical 3D Printing, in clinical as well as research environments, offering virtual planning software tools, 3D-printed anatomical models, and patient-specific surgical guides and implants. For additional information, please visit: medical.materialise.com
About DePuy Synthes
DePuy Synthes, part of the Johnson & Johnson Medical Devices Companies, provides one of the most comprehensive orthopaedics portfolios in the world. DePuy Synthes solutions, in specialties including joint reconstruction, trauma, craniomaxillofacial, spinal surgery and sports medicine, are designed to advance patient care while delivering clinical and economic value to health care systems worldwide. For more information, visit www.depuysynthes.com.
Cautionary Statement on Forward-Looking Statements
Some of the statements in this press release are "forward-looking" and are made pursuant to the safe harbor provision of the Private Securities Litigation Reform Act of 1995. These forward-looking statements include statements relating to, among other things, our planned commercialization efforts and regulatory approvals of our technologies as well as the success thereof and our research and development projects. These forward-looking statements are based upon the expectations of management under current assumptions at the time of this press release. We caution you that forward-looking statements are not guarantees of future performance and involve known and unknown risks, uncertainties and other factors that are in some cases beyond our control that may cause our actual results to differ materially from our expectations. We are providing this information as of the date of this press release and do not undertake any obligation to update any forward-looking statements contained in this presentation as a result of new information, future events or otherwise, unless we have obligations under the federal securities laws to update and disclose material developments related to previously disclosed information.
Featured Product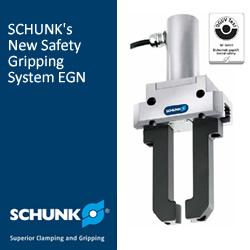 With the SLS, SOS, and STO functionalities, the SCHUNK EGN gripping system certified in accordance with DIN EN ISO 13849 enables safe human/machine collaboration. If the production process is interrupted by an emergency shut-off, the SCHUNK EGN goes into either a safely limited speed mode or a safe stop mode depending on the activated protection zone. In contrast to other solutions available on the market, the SCHUNK safety gripping system is continuously powered even in the safe operating stop so that the gripped parts are reliably held even without mechanical maintenance of gripping force. As soon as the protection zone is released, the gripper immediately switches back to the regular operating mode without the system having to be restarted.