October is Manufacturing Month and Fab Lab Hub will celebrate at the Santa Fe Business Incubator. Events will feature New Collar Job Training information for smart manufacturing and tours of the Archimedes Fab Lab.
Fab Lab Hub, LLC, a New Mexico woman-owned digital manufacturing company, joins North American manufacturers in celebrating Manufacturing Day℠. This isn't your grandparents' manufacturing and events will demonstrate first hand how new technologies have changed the industry, inspiring our next generation of fabricators. Although Manufacturing Day this year occurs on Friday October 6, in New Mexico manufacturing is highlighted for the entire month.

Fab Lab Hub is hosting two Manufacturing Day events at the Santa Fe Business Incubator that are free and open to the public. Industry 4.0 is an integrated manufacturing system of new technologies like 3D Printing, CAD design, laser machining, the Internet of Things, machine learning and augmented reality. Both events will help students, veterans, entrepreneurs, and manufacturers learn more about the Factory of the Future.
New Collar Job Training Workshop
Smart manufacturing in the digital age brings with it a pressing need for workers skilled in New Collar Jobs. A 2-hour workshop will provide details on the skills today's workforce needs, information about innovative short term trainings such as Badges, and a new apprenticeship in Santa Fe. The workshop takes place on October 3 from 5:30 to 7:30 p.m.
Fab Lab and Job Shop Open House
On Thursday October 5 from 11 a.m. to 6 p.m. the Archimedes Fab Lab and Fab Lab Hub job shop will be open for tours. Stop in and see the machines, learn about our New Collar Job training programs and let our experts answer your questions.
Although these are free events registration is required at http://www.mfgday.com/events?country=US&state=NM&city=Santa%20Fe#filter
Learn about the skills advanced manufacturing needs and how you can access them in New Mexico. Presentation is designed for manufacturers, students, veterans, entrepreneurs and anyone looking to learn about the Future of Work in manufacturing.
Featured Product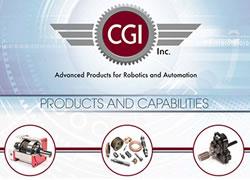 From Prototype to Production CGI Motion enables design excellence across a wide range of industrial applications. We thrive on customer driven innovation in precision gearbox, precision machined components and electro-mechanical assembly solutions ranging from aerospace systems to semiconductor applications. We are your design and manufacturing partner helping to differentiate your product, machine or innovation. Our team of problem solving engineers and product managers can bring your application to market on time and under budget. Whether it's an improvement on a current design or groundbreaking new designs, CGI has the know-how and team to enable design excellence. Connect with us today to explore what CGI Motion can do for you.