Eight programmable switch points with IO-Link from Balluff
Balluff BMF magnetic field sensors for cylinders, grippers and valves have evolved to offer a solution for many types of applications. The newest technology in the Balluff BMF family is the all new remote teach sensor, featuring advanced settings through IO-Link.

The BMF remote teach magnetic field sensors for C and T slots offer eight programmable switch points with cylinders up to 60mm of stroke when used with IO-Link. The compact single head sensor also interfaces with advanced features through IO-Link and offers multiple hysteresis settings. This allows for fine tuning of the sensitivity adjustments for various applications. In standard mode, the sensor can be programed for two cylinder positions via the teach pedant allowing one sensor to provide two switch points. The sensor has a small compact drop in style single head housing allowing flexibility in compact situations. For grippers and end-effectors on robots, multiple setpoints and fine tuning provide the ability to detect or measure parts in the jaw, supporting poka-yoke and flexible manufacturing applications.
Savings are found in the total cost of new machine builds by reducing the complexity of the number of sensors required per cylinder, by reducing mounting time and by reducing the number of electrical sensor connections required for the project. For manufacturers this new innovative magnetic field sensor is versatile, offing the advantage to standardize on one sensor to reduce inventory cost and part number management. With fine tune adjustability this allows the customer to apply the sensor for multiple applications in industries such as factory automation, automotive manufacturing & packaging equipment.
Various versions are available in the Multiple Switchpoint family:
Electical Outputs: PNP/NPN NO/NC and IO-Link PNP NO
Pigtail Connectors: M12 and M8
Temperature range: -25 to +80 °C
Industry Standard: C and T slot
Learn more about the BMF remote teach magnetic field sensors for C slots at: http://www.balluff.com/local/us/news/product-news/magnetic-sensor-for-c-slots/
Learn more about the BMF remote teach magnetic field sensors for T slots at: http://www.balluff.com/local/us/news/product-news/magnetic-sensor-for-t-slots/
About Balluff Inc.:
Balluff Inc., the U.S. subsidiary of Balluff GmbH, Neuhausen, Germany, is a leading manufacturer of a wide range of inductive, photoelectric, vision, capacitive and magnetic sensors as well as linear position transducers, RFID systems, and networking products. Balluff products for OEM and factory floor solutions are used to control, regulate, automate, assemble, position, and monitor manufacturing, assembly, and packaging sequences for industries including: metalworking, automotive, plastics, material handling, wood processing, aerospace, alternative energy, medical, electrical, and electronics.
Featured Product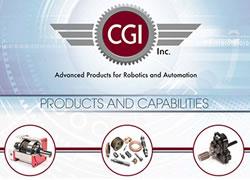 From Prototype to Production CGI Motion enables design excellence across a wide range of industrial applications. We thrive on customer driven innovation in precision gearbox, precision machined components and electro-mechanical assembly solutions ranging from aerospace systems to semiconductor applications. We are your design and manufacturing partner helping to differentiate your product, machine or innovation. Our team of problem solving engineers and product managers can bring your application to market on time and under budget. Whether it's an improvement on a current design or groundbreaking new designs, CGI has the know-how and team to enable design excellence. Connect with us today to explore what CGI Motion can do for you.