JADAK's VIBE can be modified to meet specific OEM requirements for small footprint and easy integration into medical or other devices.
SYRACUSE, N.Y. August 15, 2017 - JADAK, a business unit of Novanta Corporation, has recently released a new fixed mount machine vision camera called VIBE®. VIBE is designed for integration into a wide range of original equipment manufacturing (OEM) medical devices, including in vitro diagnostic systems, which require image analysis and 2-dimensional barcode scanning functionality. VIBE is a VGA smart camera, especially ideal for applications that require a small footprint and reading of a matrix code or machine vision at close range, such as desktop analyzer devices. The VIBE can be integrated with machine vision software, including JADAK's Clarity™ Software, and it can decode or image at less than 1" distance.

JADAK's VIBE can be modified to meet specific OEM requirements for small footprint and easy integration into medical or other devices. VIBE includes a dedicated processor that can perform decoding tasks, ideal for applications desiring no impact on host processor bandwidth.
Like all JADAK products, JADAK's engineers can support customers in product, industrial, mechanical, electrical and software design. JADAK can also perform system testing and qualification.
Specific off-the-shelf product specifications are as follows:
• Sensor Type: 640x480 CMOS Area Imager (color VGA)
• Lens Angle: 64°
• Frame Rate: 30 Frames/Second
• On-Board Illumination: White LED
• Ambient Light: 0-100,000 Lux
• Interface Protocol: RS-232, USB 2.0
• Interface Cable Output: Micro USB or pico blade connector
• Standard Mechanical Size Footprint: 1.5" x 1.5"
JADAK is the primary supplier of embedded machine vision solutions to the healthcare market, providing both smart camera imagers as well as software. Machine vision uses image processing to inspect for visible characteristics, analyze results and record findings, leading to increased automation, consistency and efficiency. Smart cameras are used to obtain images, which then communicate through machine vision software, to process the data and make decisions based on the information.
With years of machine vision experience in the medical market, JADAK provides the flexibility to configure and control machine vision systems with smart cameras. JADAK's machine vision software can be downloaded directly onto the VIBE. Applications can include, but are not limited to, any combination of the following:
• Inspecting a test tube, biological sample, or product to confirm color, size, or shape
• Sample identification for workflow, including container type, filling level, cap type and color, and sequence of steps
• Inspecting a product to ensure accurate labeling or to validate product authenticity
• Counting items, such as pill or parts, on a production line
• Analyzing an image for sample quality and presence
• Inspecting an object to measure its size
For more information, contact info@jadaktech.com, call 315.701.0678, or visit the website at http://www.jadaktech.com/products/machine-vision/fixed-mount-machine-vision/vibe-fixed-mount-machine-vision-camera/.
About JADAK
JADAK, a business unit of Novanta Corporation, specializes in machine vision, RFID, barcode, printing, and color and light measurement products and services for original equipment manufacturers. The company designs and manufactures embedded solutions that help customers solve unique inspection, tracking, scanning and documenting challenges. As JADAK continues to grow, the company has branched out into additional markets and offers solutions for the most demanding applications. The company is ISO 9001 and ISO 13485 registered. For more information, visit www.jadaktech.com.
Featured Product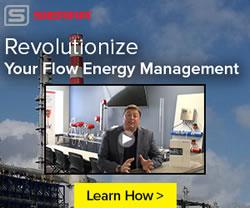 Sierra Instruments announces the launch of its new flow energy solution for managing and optimizing flow measurement for industrial facilities of all sizes. It features Sierra's QuadraTherm 640i/780i thermal flow meters, their InnovaMass 240i/241i vortex flow meters, and their new InnovaSonic 207i ultrasonic flow meter. Designed, built, and calibrated in the USA by Sierra, the Big-3TM share the same revolutionary Raptor firmware and many of the same software apps. They are a complete flow energy solution for flows like compressed air, natural gas, steam, and hot and chilled water. Together, they set a new standard in ease-of-purchase, performance, accuracy, reliability, and ease of use.