Enhanced Edge Intelligence Software Now Supports All Major IIoT Processors and Gateways
MOUNTAIN VIEW, CA--(Marketwired - Jul 11, 2017) - FogHorn Systems today announced the availability of Lightning ML, the newest version of its Lightning™ edge intelligence software platform for the Industrial Internet of Things (IIoT). Lightning ML is now the industry's first IIoT software platform with integrated machine learning capabilities and universal compatibility across all major IIoT edge systems.

Accenture predicts that IIoT can add $14.2 trillion to the global economy by 2030. However, industrial environments present a challenge to status quo methods for data collection and analysis.
"The money and time required to move massive amounts of machine data to the cloud for analysis, only to send the results back to the edge, often makes little sense," said Mike Guilfoyle, Director of Research and Senior Analyst at ARC Advisory Group. "In many instances cloud computing won't be practical, necessary, or desirable. The reality is that edge intelligence is critical to a successful overall analytics strategy."
"FogHorn is accelerating the pace of innovation in edge computing by not just democratizing analytics but by making machine learning accessible to industrial operators," said FogHorn CEO David C. King. "The addition of FogHorn Lightning ML is a monumental leap forward in delivering on the promise of actionable insights for our IIoT customers. In the initial launch of FogHorn's Lightning platform, we successfully miniaturized the massive computing capabilities previously available only in the cloud. This allows customers to run powerful big data analytics directly on operations technology (OT) and IIoT devices right at the edge through our complex event processing (CEP) analytics engine. With the introduction of Lightning ML, we now offer customers the game changing combination of real-time streaming analytics and advanced machine learning capabilities powered by our high-performance CEP engine."
Machine Learning at the Edge
Lightning ML brings the power of machine learning at the edge in three groundbreaking ways:
1. Leverages existing models and algorithms: Industrial customers can seamlessly plug in and execute proprietary algorithms and machine learning models on live data streams produced by their physical assets and industrial control systems.
2. Makes machine learning OT-accessible: Non-technical personnel can use FogHorn's tools to generate powerful machine learning insights without the need to constantly rely on in-house or third party data scientists.
3. Runs in tiny software footprint: Lightning ML enables complex machine learning models to run on highly-constrained compute devices such as PLCs, Raspberry Pi systems, tiny ruggedized IIoT gateways, as well as more powerful Industrial PCs and servers. Even with the addition of advanced machine learning capabilities, the complete Micro edition of the Lightning ML platform requires less than 256MB of memory footprint.
"FogHorn's breakthrough edge computing technology brings the power of big data analytics and machine learning to the OT (operations technology) world," said Casey Taniguchi, General Manager and Head of Business Development Center at Yokogawa Electric Corporation, a global leader in process and industrial automation systems. "The introduction of support for ARM32 processors, advanced data pre-processing capabilities and streaming analytics accomplished in a tiny footprint, along with seamless on-prem/cloud integration represents a major step forward in speeding the adoption of FogHorn's technology in a wide variety of IIoT markets and industrial use cases. We look forward to working closely with FogHorn to incorporate all of these groundbreaking technologies into Yokogawa's family of advanced industrial automation solutions."
Comprehensive Support for IIoT Hardware
While the first Lightning release supported all x86-based IIoT gateways and OT systems, Lightning ML also supports ARM32 -- one of the most widely used processors in OT control systems (like PLCs and DCSs) and the newest generation of small footprint Raspberry Pi derivative IIoT gateways.
"Fog computing requires a variety of different compute performance levels, all of which can be enabled by the flexible, low-power ARM architecture," said Rhonda Dirvin, director of IoT and embedded, Business Segments Group, ARM. "FogHorn Systems' Lightning platform supports and validates ARM-based solutions in OpenFog applications, and will enable new efficiencies and applications in the industrial edge computing space."
On-Premise Centric and Cloud Agnostic
The FogHorn Lightning ML software platform can run entirely on premise or connect to any private cloud or public cloud environment. This gives customers maximum flexibility in selecting the best deployment model in terms of IT infrastructure, security policy and cost.
Designed for Operational Technology
FogHorn Lightning ML has been specifically designed to empower OT users through a simple drag-and-drop authoring tool that abstracts away the complexities of an underlying IIoT deployment, allowing operators to focus on translating their domain expertise into meaningful analytics and machine learning insights.
"OT staff are domain experts in their respective industrial environments, but not necessarily experts in edge computing and advanced IT," said FogHorn CTO Sastry Malladi. "By giving them intuitive tools to automate, monitor and take action on their industrial data in real-time, operators can enhance situational awareness, prevent process failures and identify new efficiencies that lead to huge business benefits. This is a very different approach from other IT-centric solutions that fail to leverage the tribal knowledge of key OT experts."
For additional information or a product demonstration
Please visit the FogHorn web site at www.foghorn.io or send an email to info@foghorn.io.
About FogHorn Systems
FogHorn is a leading developer of "edge intelligence" software for industrial and commercial IoT application solutions. FogHorn's Lightning software platform brings the power of advanced analytics and machine learning to the on-premises edge environment enabling a new class of applications for advanced monitoring and diagnostics, machine performance optimization, proactive maintenance and operational intelligence use cases. FogHorn's technology is ideally suited for OEMs, systems integrators and end customers in manufacturing, oil and gas, power and water, transportation, renewable energy, mining and agriculture, as well as Smart Building, Smart City and connected vehicle applications. FogHorn was recently included in the "Cool Vendors in IoT Edge Computing, 2017" report by Gartner, Inc.
Featured Product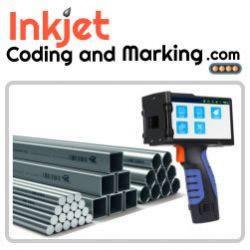 Print On Any Surface...Metals, Plastics/Composites and Glass. Handheld Printers and InLine Inkjet Printing Systems for Factory Automation, with PLC Control. Inkjet Coding and Marking Printers can be used for direct coding of parts or industrial products and compliance marking on Primary or Secondary Packaging. Small or Large Character Inkjet Coding & Marking with Barcodes and Logo Graphics printing. Integration with Handheld Barcode Readers (Scan and Print) for Track and Trace and Database connectivity printing of variables data. Motion Control Traverser Printing Automation. Top Brands: EBS HandJet 260, EBS250 HandJet, Sojet V1H Handheld Printer, Reiner JetStamp 790MP and RN Mark 7 Printing System.