The addition of more industrial-grade materials for lightweight prototypes and print cores that result in faster output highlight new offerings
BOSTON and AMSTERDAM, June 27, 2017 /PRNewswire/ -- Ultimaker, the global leader in professional desktop 3D printing, announced today several product developments to enhance its Ultimaker 2+ and 3 solutions. A variety of new tools and accessories allow users to enhance performance of their Ultimaker 3D printers and take advantage of new engineering-friendly materials to expand possibilities for print outputs. An upgraded version of the Cura slicing software is also now available for best preparing design files for final printing.

"Our Ultimaker 3 has changed the way companies and organizations produce prototype parts, small-scale production, tools, jigs and fixtures," said Paul Heiden, Senior Vice-President, Ultimaker Product Management. "With the additions of multiple materials, kits and accessories, as well as software upgrades, users can better optimize and maintain printers at scale and achieve consistent and high-quality output."
The Ultimaker 3 offers an integrated software, hardware and material solution for efficient workflow and consistent, high-quality 3D print results. Its cutting-edge dual-core print head comes with print cores for build and support materials, and the unique auto-nozzle lifting system ensures the most reliable dual extrusion printing for full geometric freedom.
New offerings include:
Polypropolene (PP) - Polypropolene is a favorite of designers and engineers because of its exceptional durability. Due to its excellent chemical and temperature resistance, it is ideal for printing such items as electrical components. Printing with PP for functional prototyping means an output that is close to material used for end-use parts.
NFC Spools (TPU, CPE+, PC) - Ultimaker has developed new printing profiles which means support for a wider range of engineering materials. These profiles ensure professional and reliable results for producing prototypes, tools and more.
Kit - The Ultimaker 3 Advanced 3D Printing Kit provides offerings to both optimize the performance of the system and yield higher-quality results.
Nozzles for Print Cores - New 0.8 mm and 0.4 mm nozzle sizes for printing both build materials and dissolvable support materials allow for more complex geometries and faster printing.
Software - With Cura 2.6.1, users can take advantage of new features such as enhanced support adhesion settings, easier, faster model auto-arrange options, support meshes and extruder buttons.
For more information, visit www.ultimaker.com
About Ultimaker
Ultimaker has been in operation since 2011, and over the years has grown to become the global market-leader in desktop 3D printing; creating powerful, professional and accessible 3D printers. With offices in the Netherlands, New York, and Boston, plus production facilities in both Europe and the US, Ultimaker's team of over 250 employees continually strives to offer the highest-quality 3D printers, software, and materials on the market.
Featured Product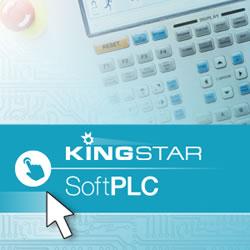 The top machine builders are switching from proprietary hardware-based PLCs, like Allen-Bradley, TwinCAT, Mitsubishi and KEYENCE, to open standards-based EtherCAT-enabled software PLCs on IPCs. KINGSTAR provides a fully-featured and integrated software PLC based on an open and accessible RTOS. KINGSTAR Soft PLC also includes add-on or third-party components for motion control and machine vision that are managed by a rich user interface for C++ programmers and non-developers alike.