Cost-Effective Printing Enables Smart, Connected Industrial and Consumer Products
ALBUQUERQUE, N.M.--(BUSINESS WIRE)--Optomec, a leading global supplier of production grade additive manufacturing systems announced today that the company will feature cost-effective smart, connected products produced with its production grade Aerosol Jet 3D Printers at the Sensors Expo held in San Jose, California this week. Optomec will be in booth #1232, where they will perform live Aerosol Jet printing demonstrations, showcasing how products ranging from gas turbine engine blades to consumer hand-held devices can be made smart with 3D printed sensors and antennas.

Highlighting the Optomec smart product showcase is a groundbreaking 3D Printed Sensor application that was developed working with our customer, General Electric (GE). The production solution utilizes Optomec's Aerosol Jet system to print passive strain sensors directly onto turbine blades used in an industrial gas turbine. The sensors are composed of a ceramic material that can withstand the very high operating temperatures seen in the hot section of the gas turbine. These sensors can detect deformations in the underlying metal that could ultimately result in an expensive and sometimes catastrophic failure. The data from the sensors has a direct tie to GE's Predix software platform, demonstrating the digital convergence between Additive Manufacturing and the Internet of Things. Additionally, Optomec will display functional devices produced with Aerosol Jet systems, such as 3D printed sensors and antennas, semiconductor packaging and Internet of Things applications. Aerosol Jet technology is currently used in mass production for printing 3D conformal antennas and sensors for consumer electronics devices at the LITE-ON Mobile Mechanical SBG (LITE-ON) factory in Guangzhou, China.
The Sensors Expo is North America's largest and most comprehensive educational program that brings together thousands of engineering professionals all under one roof. With updated and expanded tracks, exciting and visionary keynote presentations, and new pre-conference symposia, the Sensors 2017 conference program focuses on leading sensors content from over 100 industry experts. Click here for more information on the event.
About Optomec
Optomec is a privately-held, rapidly growing supplier of Additive Manufacturing systems. Optomec patented Aerosol Jet Systems for 3D printed electronics and LENS Systems for 3D printed metals are used by industry to reduce product cost and improve performance. Together, these unique printing solutions work with the broadest spectrum of functional materials, ranging from electronic inks to structural metals and even biological matter. Optomec has more than 300 marquee customers around the world, targeting production applications in the electronics, energy, life sciences and aerospace industries.
Twitter- https://twitter.com/optomecinc
Facebook- www.facebook.com/optomec
LinkedIn- https://www.linkedin.com/company/optomec
Featured Product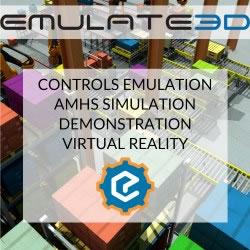 Emulate3D software helps you model and test your AMHS solutions rapidly. Use Demo3D to create running models quickly, then generate videos, stills, or view the models in virtual reality at the click of a button. Sim3D enables you to carry out experimental test runs to select optimal solutions and the most robust operating strategy, and Emulate3D Controls Testing is the best way to debug your PLCs offline, and off the project's critical path. Connect to major PLCs, import CAD, and plug into HTC Vive and Oculus Rift to produce awesome models!