Controls Engineer Ian Mogab will co-host a technical seminar with Caterpillar, Inc. to share expertise on using Siemens technology to install UHF RFID in an industrial setting.
Auburn Hills, MI - June 15, 2017 - Patti Engineering, Inc., a leading control system integration company based in Auburn Hills, MI with offices in Texas and Indiana, today announced details of a seminar the company will present at the Siemens Automation Summit in Boca Raton, Florida. The seminar titled "Siemens RF600: A Case Study," will be co-presented with Caterpillar Inc. and will feature a recent project.

The Siemens Automation Summit will take place June 26-29 at the Boca Raton Resort and Club, Waldorf Astoria Resort in Boca Raton, Florida. The summit is a user conference featuring presentations by and for manufacturing professionals who use Siemens automation technologies.
Patti Engineering's Ian Mogab will team up with Jerod Bond of Caterpillar Inc. to discuss details of an application of the UHF RFID technology in Caterpillar's plant, including how the technology works, why it was chosen, and benefits realized. The seminar will detail the implementation of the Siemens RF600 system at Caterpillar, Inc. in a powertrain manufacturing and testing environment and how they navigated the challenges associated with it. It will discuss the design process, how the built in RF600 configuration tools were utilized, and how the team overcame some of the unique challenges that a manufacturing environment presents when using a UHF system. The seminar will be presented Wednesday, June 28, 2017 at 3:00 pm in Royal Palm 2.
"Attendees will have a great opportunity to learn the details of Siemens' RF600 UHF RFID technology," said Sam Hoff, CEO of Patti Engineering. "Our UHF RFID seminar will provide specific details of an application both from an integrator's perspective and an end user's perspective."
Patti Engineering is a Siemens Solution Partner in Automation, Drives, and most recently, RFID and Networking. The company recently published an eBook on UHF RFID, 'Your Guide to Implementing UHF RFID - Tips, Tricks, And Lessons Learned.'
About Patti Engineering, Inc.
Patti Engineering, Inc. is a CSIA Certified control systems integration company offering high-caliber engineering and software development services. Patti Engineering's technical expertise in electrical control and information systems provides turnkey control systems integration for design/build, upgrade/retrofit and asset/energy management projects. Industrial automation, production intelligence and shop floor IT solutions services include: project management, electrical engineering, hardware design, hardware procurement, software development, installation, calibration, start-up testing, verification, documentation, training and warranty support. Customer satisfaction and project success earned the company placement in the Control Engineering Magazine's Hall of Fame. For more information, visit http://www.pattieng.com.
Featured Product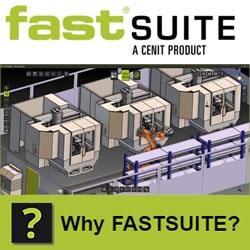 With two product lines, FASTSUITE for V5, which is seamlessly integrated with CATIA/DELMIA V5, and FASTSUITE Edition 2, a standalone platform, the areas of OLP (offline programming), manufacturing simulation and virtual commissioning are the core of our business activities. Our applications and solutions are not only focused on real customer needs, but they are also designed to improve efficiency and quality of our customers' manufacturing processes. No matter if the process is just about offline programming of a single robot at a small job-shop company or about the validation of a complete production line at an Automotive or Aerospace OEM. We strive to ensure a constant quality of our services and to provide the best possible support to our worldwide customers. Therefore we have established three digital manufacturing hubs around the world. All our teams have a proven expertise on manufacturing process integration and profound IT implementation skills.