Optomec to deliver multiple systems for printing 3D Sensors, 3D Antenna and other 3D Electronics as part of $3 Million Project
ALBUQUERQUE, N.M.--(BUSINESS WIRE)--Optomec, a leading global supplier of production grade additive manufacturing (AM) systems for 3D Printed Metals and 3D Printed Electronics, today announced that the company, in concert with development partners Lockheed Martin, Binghamton University, General Electric Company, Intrinsiq Materials, and the University of Maryland, was recently awarded one of five development projects from NextFlex®, to help bring Flexible Hybrid Electronics (FHE) to widespread adoption. NextFlex is Americas FHE Manufacturing Institute and a leading force in the U.S. manufacturing industry. FHE is a new class of lightweight, low cost, flexible, stretchable, conformable and efficient devices for the Internet of Things (IoT), medical, robotics and communication markets.

The project, entitled "Conformal Printing of Conductor and Dielectric Materials onto Complex 3D Surfaces" has a total value on $3.1 million. The total cost-shared value of contracts from all NextFlex project calls to date is $45 million, signaling the confidence of industry, academia and government leaders for bringing FHE mainstream.
The goal of the project is to enable conformal printing of conductor and dielectric materials on complex 3D surfaces by advancing tooling, software and printing processes. Optomecs contribution includes the upfront delivery of two Pilot Line systems to be installed at the NextFlex Technology Hub in San Jose, California and in New York using Optomec Aerosol Jet 5-axis (5x) printing systems. Additional existing Aerosol Jet systems will be made available at a number of the team member facilities. Advanced tool path generation software will enable the project team to print conformal circuitry at resolutions down to 10 microns onto 3D surfaces using Aerosol Jet 5x systems. As a result, Lockheed, the project lead, will deliver conformal sensors, 3D antenna structures and non-planar circuit routing demonstrators.
"Optomec is committed to supporting industries growing need to deploy smart, connected devices that take advantage of data and cloud computing advances to improve performance and lower cost throughout the product life cycle," said Optomec CEO, Dave Ramahi. "We are very excited to be part of this important project and to be working with our NextFlex partners to accelerate the development of FHE-enabled products."
Click here for more information on all 5 NextFlex project calls.
About NextFlex
NextFlex®, Americas Flexible Hybrid Electronics Manufacturing Institute, is a leading force in the Manufacturing USA network. Formed through a cooperative agreement between the U.S. Department of Defense (DoD) and FlexTech Alliance, NextFlex is a consortium of companies, academic institutions, non-profits and state, local and federal governments with a shared goal of advancing U.S. manufacturing of FHE. Since its formation in 2015, NextFlexs elite team of thought leaders, educators, problem solvers and manufacturers have come together to collectively facilitate innovation, narrow the manufacturing workforce gap and promote sustainable manufacturing ecosystems. For more information, visit www.nextflex.us and follow NextFlex on LinkedIn, Facebook, and Twitter.
About Optomec
Optomec is a privately-held, rapidly growing supplier of Additive Manufacturing systems. Optomecs patented Aerosol Jet Systems for printed electronics and LENS 3D Printers for metal components are used by industry to reduce product cost and improve performance. Together, these unique printing solutions work with the broadest spectrum of functional materials, ranging from electronic inks to structural metals and even biological matter. Optomec has more than 200 marquee customers around the world, targeting production applications in the Electronics, Energy, Life Sciences and Aerospace industries.
Featured Product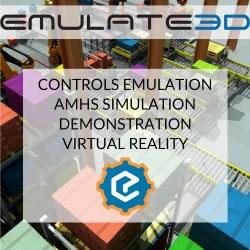 Emulate3D software helps you model and test your AMHS solutions rapidly. Use Demo3D to create running models quickly, then generate videos, stills, or view the models in virtual reality at the click of a button. Sim3D enables you to carry out experimental test runs to select optimal solutions and the most robust operating strategy, and Emulate3D Controls Testing is the best way to debug your PLCs offline, and off the project's critical path. Connect to major PLCs, import CAD, and plug into HTC Vive and Oculus Rift to produce awesome models!