Register FREE for the Europe's leading IoT event, taking place in Berlin on the 1-2 June 2017
BERLIN--(BUSINESS WIRE)--Europe's leading IoT event will return to Berlin in just 2 weeks and there are plenty of free areas which you can get involved with. Taking place on the 1-2nd June, the IoT Tech Expo event will explore the entire IoT ecosystem, introducing the latest technology innovations across 6 conference tracks, a start-up zone, 2 co-located events covering Blockchain and AI, an exhibition showcasing the latest innovations and the IoT meetup.

Here are just 7 of the free aspects at the event which you can get involved with:
1. 3 FREE conference tracks
Namely, 'Developing for the IoT', 'IoT Innovations & Technologies' and 'Blockchain Technologies', this is a fantastic chance to explore the wider area of the IoT and Blockchain, and hear from a range of industry leaders from brands including Volvo CE, Sigfox, Visa, Coca-Cola, BMW, Bluetooth, ESA, Allianz, Daimler, GSK, Metro, Johnson Controls & more.
2. Keynote Panel: How is the IoT shaping consumer-brand relationships in retail & beyond?
Within the IoT Innovations conference, senior representatives from Coca-Cola, Visa, Benetton Group and Wingu will explore how IoT can create a direct brand-consumer channel, and the potential it holds for multi-way communication. How does this evolving landscape affect retailer's relationship with their customers, both in store and digitally? June 2nd - 3:10pm.
3. The vast exhibition showcasing the latest tech
With 200+ exhibitors, including the most innovative start-ups, you will get to see the latest IoT, Blockchain and AI technologies in action, including drones, smart fridges, mind-reading technology, AI, 3D printing, VR, predictive maintenance and more.
4. The Blockchain & AI Expo
Co-located with the Blockchain Expo and AI Expo, you will be able to explore a host of new and exciting areas including machine learning, bots, deep learning and data analytics, covering verticals from finance to music, real estate to healthcare, insurance to government and more.
5. The IoT meetup
Meet with like-minded individuals at the IoT meetup (June 1st - 4-6pm), network, share knowledge and develop new business opportunities. The aim is to build a community of people and organisations willing to collaborate, explore and innovate. Topics include Industry 4.0, start-up success and Blockchain. Why not join?
6. T-Systems, Z-Wave, tado°, Navigant and Scandic Hotels explore how you can create a seamless connected building ecosystem
With an eye-catching line-up, the speakers discuss what businesses should consider when choosing a connected building or home platform and what role partnerships, cloud and mesh systems will play. June 1st - 2:10pm.
7. A Message from Space: Funding and Support for Down-to-Earth Problem Solvers
The European Space Agency will present the capabilities that space could contribute to IoT services on Earth, in addition to introducing opportunities for funding and support to assess customer driven service concepts. Not to be missed. June 2nd - 3:50pm.
These are just 7 of the free areas you can get involved with at the IoT Tech Expo Europe in Berlin on the 1-2nd June! All you need to do is register for your FREE expo pass to experience all of the above and more.
Click here to view the full agenda at the IoT Tech Expo Europe.
To learn more about the IoT Tech Expo World Series, visit the corresponding sites:
IoT Tech Expo Europe - 1-2nd June, Estrel, Berlin
IoT Tech Expo North America - 29-30th November, Santa Clara, Silicon Valley
IoT Tech Expo Global - 18-19th April 2018, Olympia, London
For speaking, sponsorship and exhibitor enquiries please contact the team at enquiries@iottechexpo.com or call on +44 (0) 117 980 9023.
About IoT Tech Expo
The IoT Tech Expo World Series (www.iottechexpo.com) hosts top level content and discussion, introducing and exploring the latest innovations in the Internet of Things arena. It brings together key industries including Manufacturing, Transport, Health, Logistics, Government, Energy and Automotive.
Featured Product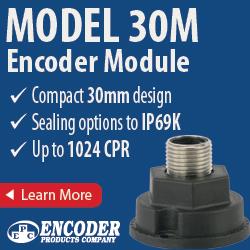 The Model 30MT is a compact magnetic encoder module designed for the most extreme environments. It offers sealing up to IP69K, an operating temperature range of -40° to 120° C, and a shock and vibration rating that conforms to Mil-STD-202G. With a large air gap and tolerance to misalignment, up to 1024 CPR (4096 PPR with Quadrature Counting), and easy alignment and installation, the Model 30M or is an excellent solution where you need motion feedback in your robotics application.