The Impossible Objects Model One printer is poised to transform manufacturing
PITTSBURGH--(BUSINESS WIRE)--Impossible Objects announced today the launch of Model One, its pilot 3D printing machine to revolutionize high-volume manufacturing and initial pilot program members, including Jabil and select Fortune 500 customers.

The announcement took place at the RAPID+TCT 3D printing and additive manufacturing conference.
While many 3D printing companies have focused on producing prototypes made of plastics or metal, the Model One is designed to 3D print functional parts, at scale, using the widest selection of materials. Impossible Objects' composite-based additive manufacturing method (CBAM) enables companies to use a range of composite materials, including carbon fiber, Kevlar and fiberglass together with PEEK and other high performance polymers, to build the strongest lightweight parts.
"We've seen tremendous interest from a range of companies who want the advantages of 3D printing for their high-volume manufacturing and for materials they cannot get elsewhere," says Robert Swartz, chairman and founder of Impossible Objects. "Until now, there was no way to print functional parts with the mechanical and material properties at the scale these companies need. The Model One is just the beginning of what CBAM can do. Our CBAM technology has the potential to transform manufacturing as we know it."
The Model One will empower customers throughout the entire manufacturing process, from prototyping to high-volume production, allowing businesses to:
Create Stronger Parts: Through Impossible Object's unique process, Model One is able to create parts that can be up to 10x stronger than current 3D printers.
Use a range of high-quality materials: Through a greater amount of material options, Impossible Objects enables companies to build truly functional parts, from high performance materials such as PEEK and carbon fiber. Because of the composite makeup, customers will be able to customize the part applications, whether to have heat and/or chemical resistant properties, stiffness or flexibility, or other attributes.
Power 3D printing at scale: With faster build speeds than other additive manufacturing technologies and traditional composite lay-up techniques, Impossible Objects has the potential to enable companies to build vital parts at production speeds 100x faster than current methods. Further, users can make the same part for the prototype and mass production.
"Based on its combination of speed, strength and material sets, we believe Impossible Objects' CBAM could become an enabling technology for high-volume manufacturing," said Greg Ojeda, senior director of AM Ecosystem Development and Strategy at Jabil. "We've identified applications where Impossible Objects could deliver a competitive advantage and significant cost savings over conventional manufacturing processes. We are excited to take part in Impossible Objects' pilot program and look forward to working with the Impossible Objects' team."
The Model One will become generally available to the public by early 2018. Interested companies that wish to be considered earlier for the pilot program should email Impossible Objects.
"We're excited to take this next step toward providing a tangible solution for the largest manufacturing opportunities that businesses have," says Larry Kaplan, CEO of Impossible Objects. "With our deep expertise in additive manufacturing, we're committed to finding the fastest, most efficient ways possible to produce the most vital and complex parts from all types of materials."
Impossible Objects' CBAM process is the first truly new 3D printing process in more than 20 years. Conventional thermal inkjet heads are used to "print" designs on sheets of composites, like carbon fiber, Kevlar or fiberglass. Each sheet is then flooded with a polymer powder, such as nylon or PEEK, causing the powder to stick where inkjet fluid has been deposited on the sheets. Excess powder is vacuumed off and the sheets are stacked, compressed and heated. The polymer powder melts and bonds the sheets together. The uncoated fibers are then mechanically or chemically removed, and what remains is an exceptionally durable, lightweight object that was previously impossible to make so quickly and inexpensively.
About Impossible Objects:
Impossible Objects LLC was founded in 2009 with the expectation that materials sciences inventions would enable 3D printing to revolutionize the world in the same ways that computers and the Internet have revolutionized the way we live, work and play. Impossible Objects is backed by OCA Ventures and is staffed by a multidisciplinary team with extensive experience in manufacturing, additive manufacturing, materials sciences, aerospace, composite materials and engineering, and developing and commercializing new technologies. www.impossible-objects.com
Featured Product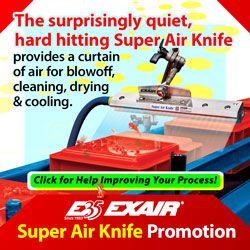 Reversible Drum Vac & High Lift Reversible Drum Vac - Pump 55 gallons in 90 seconds! Two-way pumping action! EXAIR's compressed air operated Reversible Drum Vac and High Lift Reversible Drum Vac attached quickly to any closed head 30, 55, or 110 gallon drum and can fill a 55 gallon drum in less than two minutes. With the simple turn of a knob, the same stainless steel pump quickly empties the drum. High Lift Drum Vac lifts up to 15 feet. Chip Trapper & High Lift Chip Trapper - Vacuums in liquid with solids and pumps out only liquid! Machine tools commonly discharge some chips and shavings into the coolant sump. The Chip Trapper and the High Lift Chip Trapper vacuums coolant or liquid that is filled with debris and traps all the solids in a reusable filter bag, leaving your coolant clean. High Lift Chip Trapper cleans with up to 15 feet of lift. See our current Promotion and all of the other Industrial Vacuums available.