Collaboration between Materialise and 3D Systems to develop a Build Processor to streamline workflows for 3D Systems' CJP full color printers announced at RAPID Conference
PLYMOUTH, Mich.--(BUSINESS WIRE)--3D printing pioneers Materialise and 3D Systems have joined in a partnership to allow customers to utilize Materialise Build Processor software in 3D Systems' ProJet® CJP full color machines. This partnership is a milestone moment, representing a shift towards increased collaboration to deliver innovative solutions within the 3D printing industry.

Materialise and 3D Systems will leverage several decades of experience in the 3D printing industry to develop a customized Build Processor to integrate the Materialise Magics 3D Print Suite with 3D Systems ProJet CJP machines. The Build Processor will reduce the complexity and increase efficiency of developing 3D printing workflows for 3D Systems customers using Materialise solutions with CJP printers.
"Customers across the board will reap the benefits of our partnership with 3D Systems and increased collaboration with organizations both within and outside of the 3D printing industry," said Fried Vancraen, founder and CEO of Materialise. "We are pleased to solidify our relationship, which dates back to 1990 when I bought my first 3D Systems printer. This is good news for customers, as it links Materialise's powerful software backbone with 3D Systems' ColorJet Printing technology."
"We are pleased that this collaboration with Materialise will enable our ProJet CJP printer customers who use Materialise software to have a streamlined workflow and more efficient overall solution," said Jim Ruder, Senior Vice President and General Manager of Plastics for 3D Systems.
With more than 27 years of experience in 3D printing, Materialise has become the partner of choice for companies interested in the benefits of 3D printing, providing technical expertise and technology to implement end to end solutions for their customers. Fortune 500 companies, including HP, Siemens, GE and many others rely on Materialise for their 3D printing software and service needs.
Materialise's full range of 3D printing software solutions, are on display at booth #1613 during the 2017 RAPID Conference May 8-11, 2017. Additional information on Materialise software can be found at www.materialise.com/en/software.
About Materialise
Materialise incorporates more than 27 years of 3D printing experience into a range of software solutions and 3D printing services, which together form the backbone of 3D printing technologies. Materialise's open and flexible solutions enable players in a wide variety of industries, including healthcare, automotive, aerospace, art and design, and consumer goods, to build innovative 3D printing applications that aim to make the world a better and healthier place. Headquartered in Belgium, with branches worldwide, Materialise combines the largest group of software developers in the industry with one of the largest 3D printing facilities in the world. For additional information, please visit: www.materialise.com.
Featured Product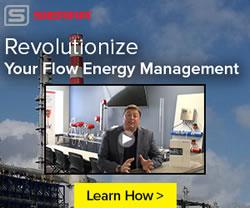 Sierra Instruments announces the launch of its new flow energy solution for managing and optimizing flow measurement for industrial facilities of all sizes. It features Sierra's QuadraTherm 640i/780i thermal flow meters, their InnovaMass 240i/241i vortex flow meters, and their new InnovaSonic 207i ultrasonic flow meter. Designed, built, and calibrated in the USA by Sierra, the Big-3TM share the same revolutionary Raptor firmware and many of the same software apps. They are a complete flow energy solution for flows like compressed air, natural gas, steam, and hot and chilled water. Together, they set a new standard in ease-of-purchase, performance, accuracy, reliability, and ease of use.