-See Machining Accuracy Video Example-
SCHAUMBURG, IL (April 2017) - From jet planes to laboratory equipment, today's life-changing technologies require ultimate accuracy, and now HEIDENHAIN TV on YouTube is available to the public offering over 100 videos highlighting its latest advances in the highest of accurate precision measurement and motion control equipment.

For more than 125 years, HEIDENHAIN has delivered trusted motion solutions behind the machines and devices that move them forward. With this online Web service, HEIDENHAIN TV brings much of that current information to the public at the touch of a few buttons. Video categories include HEIDENHAIN Basics, Machinery Accuracy, TNC Controls, Webinars/Tutorials, and Mounting, among others. Click here for a 3.51-minute video example on HEIDENHAIN's "Machining Accuracy on Machine Tools".
Serving the worldwide markets, HEIDENHAIN TV videos are available in many languages including English, German and Chinese. Users can subscribe to the service to receive the latest videos as they are added, as well as use a Search function to find what is most applicable to their needs.
HEIDENHAIN's primary industries served include metalworking, machine tool, semiconductor and electronics, motor/drive, general automation, and medical, but can be of use anywhere highly dependable precision measurement and motion control is needed.
HEIDENHAIN CORPORATION is the North American subsidiary of DR. JOHANNES HEIDENHAIN GmbH, a leading international manufacturer of precision measurement and control equipment. The product line includes linear scales, rotary and angular encoders, digital readouts, digital length gauges, CNC controls, and machine inspection equipment.
#
For more information, contact HEIDENHAIN Public Relations Manager Kathleen Stoneski at (847) 519-4702 (kstoneski@heidenhain.com). Orvisit our website at www.heidenhain.us.
Downloadable Image Available At: http://www.heidenhain.us/wp-content/uploads/youtube-heidenhain-tv-en.jpg
Featured Product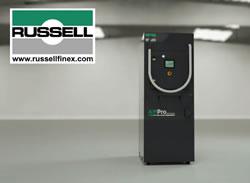 The Russell AMPro Sieve Station™ guarantees the quality of your additive manufacturing (AM) powder, and has been designed to provide optimum sieving efficiency, ensuring your powder is ready for use or reuse as and when you require it. With a simple one-button operation and mobile design, this automated check screener ensures your powder at every stage of the process is qualified for use quickly and safely. The flexibility of the Russell AMPro Sieve Station™ means you can use the system for numerous powder handling tasks - being a modular design ensures the machine can be configured to meet your exact requirements.