Located on-site at the University, the U3DP has 20+ years proven research support, development and application experience in 3D printing.
ALBUQUERQUE, N.M.--(BUSINESS WIRE)--Optomec, a leading global supplier of production grade additive manufacturing systems for 3D printed metals and 3D printed electronics, today announced that the company's printers were highlighted at the Grand Opening of the University 3D Printing Research (U3DP) facility at Hong Kong Polytechnic. Hong Kong Polytechnic currently owns an Optomec Aerosol Jet system for 3D printed electronics and a LENS system for 3D printed metals. The Grand Opening took place on Wednesday, April 19.

Located on-site at the University, the U3DP has 20+ years proven research support, development and application experience in 3D printing. The U3DP includes over 50 sets of 3D printing machines, from entry-level to industrial grade, dozens of computers for 3D modelling, software for 3D scanning, reconstruction, modelling and printing, and a 3D printing post-treatment area. For more information about U3DP, click here.
The Aerosol Jet process utilizes an innovative aerodynamic focusing technique to collimate a dense mist of material-laden microdroplets into a tightly controlled beam to print features as small as 10 microns or as large as several millimeters in a single pass. A wide assortment of materials can be printed with the Aerosol Jet system including conductive nanoparticle inks, polymers and epoxies, along with dielectrics, ceramics, and bioactive materials. Aerosol Jet technology is currently used for printing 3D shaped electronics in mass production for antenna and sensor applications. Optomec LENS 3D printers are used to efficiently add metallic materials to existing parts and to fully print new, high-performance metal components using a wide range of functional metals, including titanium, stainless steel and super alloys. The LENS family of 3D metal printers can be used throughout the product life cycle to cost-effectively repair, rework and manufacture high-performance metal components.
Earlier this year, Optomec announced the opening of its Asia Pacific (APAC) Operations Center located in Singapore. The Optomec APAC Operations Center works directly with customers in the region as well as an extensive reseller network spanning Australia, China, Hong Kong, India, Indonesia, Japan, Malaysia, New Zealand, Philippines, South Korea, Taiwan and Thailand. In addition to the APAC Operations Center, Optomec has increased its presence at industry events in Asia; the company has and will be exhibiting and presenting at several conferences throughout Asia, including TimTos in Taiwan, NAMICS, SEMICON Southeast Asia, NEPCON Shanghai, and several more.
Optomec is a privately held, rapidly growing supplier of Additive Manufacturing systems. Optomec's patented Aerosol Jet Systems for printed electronics and LENS 3D Printers for metal components are used by industry to reduce product cost and improve performance. Together, these unique printing solutions work with the broadest spectrum of functional materials, ranging from electronic inks to structural metals and even biological matter. Optomec has more than 300 marquee customers around the world, targeting production applications in the electronics, energy, life sciences and aerospace industries. For more information about Optomec, visit http://optomec.com.
LENS (Laser Engineered Net Shaping) is a registered trademark of Sandia National Laboratories. Aerosol Jet and Optomec are registered trademarks of Optomec Inc.
Twitter- https://twitter.com/optomecinc
Facebook- www.facebook.com/optomec
LinkedIn- https://www.linkedin.com/company/optomec
Featured Product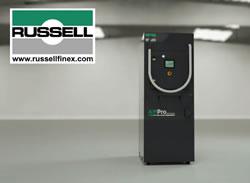 The Russell AMPro Sieve Station™ guarantees the quality of your additive manufacturing (AM) powder, and has been designed to provide optimum sieving efficiency, ensuring your powder is ready for use or reuse as and when you require it. With a simple one-button operation and mobile design, this automated check screener ensures your powder at every stage of the process is qualified for use quickly and safely. The flexibility of the Russell AMPro Sieve Station™ means you can use the system for numerous powder handling tasks - being a modular design ensures the machine can be configured to meet your exact requirements.