The World-Leader in CNC machining centers will be showcasing two live demonstrations
ARLINGTON HEIGHTS, IL (March 6, 2017) - JTEKT Toyoda Americas is proud to provide the machining tools that will expand shops' capabilities to compete efficiently on a global level at EASTEC 2017. During the event, Toyoda will be showcasing live demonstrations of their Stealth VQ1060 VMC and NEX-105 turning center machines

VQ1060 Linear Vertical Machining Center
Known as an economical solution for a diverse range of workpieces, the VQ1060's robust linear guideways and high-performance spindle leave no room for question of this powerhouse's capability on the shop floor. Heavy-duty, preloaded linear guideways provide excellent vibration dampening capabilities for fast machining.
Adding support to vibration dampening capabilities, the Stealth's robust cast-iron head stock and 10,000 RPM belt drive spindle are paired with a CAT 40 taper and 10/15 HP motor, offering high-revolution accuracy and thermal stability. Spindle output torque for the VQ1060 reaches 35.4/52.3 ft-lb while rigid feed rates work 1,417 ipm on the X and Y axes, and 1,181 ipm for the Z axis.
During EASTEC 2017, Toyoda will be running demonstrations of the VQ's high-speed dynamic milling capabilities on an aircraft flap track part. Toyoda's VQ1060 is the complete "Ready to Cut" package, as customers will benefit from a chip conveyor, full enclosure, Fanuc 0iMD, spindle oil chiller, air gun, coolant gun, work lamps and stock light - all included.
NEX-105 Linear Horizontal Turning Center
Takisawa Taiwan announced Toyoda Americas as their master distributor for turning centers throughout Mexico and select USA markets in 2016. Since then, the duo has worked tirelessly to provide the highest quality complete turning solution alongside full-service technical support.
Developed after gathering customer data showing a need for a more compact solution capable of mass producing small parts, Takisawa Taiwan's NEX-105 linear turning center is brand new to the line, having hit the shop floor January 2017. Smallest of the NEX series, the NEX-105 offers spindle speed up to 6,000 RPM and fast indexing capabilities on its linear roller bearing guideway.
The Stealth NEX-105 will be running live demonstrations throughout the show, featuring specifications with a max swing of 15.7" (398 mm), max turning diameter of 6.7" (170 mm), and a spindle drive motor of 10 HP/7.5 HP (7.5 kW/5.5 kW) with a 6" chuck.
See the VQ1060 and NEX-105 in action and meet the Toyoda team at EASTEC 2017 booth #1022.
About JTEKT Toyoda Americas Corporation
For More than 30 years, JTEKT Toyoda Americas Corporation has provided an extensive line of CNC machines engineered for innovators and built with the speed, strength and capacity to get the job done. Toyoda's premier lineup includes horizontal and vertical machining centers, bridge-type mills, grinding machines and automation solutions. From job shop applications to high-volume production, thoughtful engineering has been at the cornerstone of Toyoda machines. Built to be ruggedly tough in high-production environments, Toyoda Americas sparks innovation and efficiency for the technology of tomorrow. www.toyoda.com
Featured Product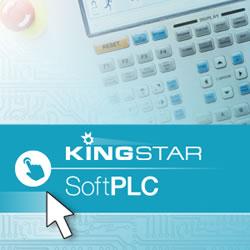 The top machine builders are switching from proprietary hardware-based PLCs, like Allen-Bradley, TwinCAT, Mitsubishi and KEYENCE, to open standards-based EtherCAT-enabled software PLCs on IPCs. KINGSTAR provides a fully-featured and integrated software PLC based on an open and accessible RTOS. KINGSTAR Soft PLC also includes add-on or third-party components for motion control and machine vision that are managed by a rich user interface for C++ programmers and non-developers alike.