The Sercos TSN demonstrator was created by the Institute for Control Engineering of Machine Tools and Manufacturing Units (ISW, University of Stuttgart) with support of several industry partners. It shows a real-time and multiprotocol-capable network infrastructure based on TSN for automation technology.
Sercos International, provider of the Sercos® automation bus, will present the Sercos TSN demonstrator at Hannover Fair from April 24-28, 2017 in hall 9, booth G28. The demonstrator shows the transmission of the Sercos III real-time protocol via Ethernet standard IEEE 802.1 TSN (Time-Sensitive Networks).

The Sercos TSN demonstrator was created by the Institute for Control Engineering of Machine Tools and Manufacturing Units (ISW, University of Stuttgart) with support of several industry partners. It shows a real-time and multiprotocol-capable network infrastructure based on TSN for automation technology.
The demonstrator involves a TSN-based Sercos III SoftMaster with a Soft CNC from Industrielle Steuerungstechnik GmbH (ISG), which communicates with Sercos III servo drives from Bosch Rexroth via Hirschmann Automation TSN switches. Through this TSN network infrastructure, video streams from a webcam are transmitted to a remote display in parallel with the servo communication, without impairing the characteristics and functionality of the Sercos real-time communication.
The demonstrator constitutes a proof of concept,with which the native real-time capability of Sercos within a TSN network is presented on an exemplary basis.
Ethernet standard IEEE 802.1 brings with it mechanisms that ensure open, real-time-capable communication and also support high, future data rates. A key aspect here is
the IEEE 802.1Q standard, which specifies the division of physical networks into several logically separated, prioritized virtual networks (VLANs). In turn, the VLAN priorities enable optimized scheduling of the packages from all virtual networks, with transmission safety and a deterministic latency. To create a uniform time base in the entire network and to transfer the traffic classes within synchronous time slots, mechanisms from IEEE 802.1-AS / IEEE 1588 (distributed clock synchronization) and IEEE 802.1Qbv (time-multiplex procedure) are used.
The aim in designing the Sercos TSN demonstrator was to expand a typical setup consisting of a numerical control and drives by adding an interposed, real-time-capable network. A key element here was the integration of the Precision Time Protocol (PTP) according to IEEE 1588 into the control, so that all network participants use a uniform time base. In the analysis of the Sercos real-time behavior, it was shown that the errors in the time synchronization were restricted to a two-digit nanosecond range. With this analysis, it could be proven that the synchronization,which is also contained in the TSN standard as IEEE 802.1-AS, achieves accuracy that is sufficient for demanding motion applications. Additional analyses on the demonstration system will establish the limits of real-time communication of Sercos via TSN by varying the cycle time and the number of participants.
Sercos International will also show the Sercos SoftMaster Demo. This demo is based on a Sercos III SoftMaster core, which was developed in cooperation with Bosch Rexroth and is being made available as open source software.
A Sercos III FPGA or ASIC master component is not required because a standard Ethernet controller is used, with the Sercos III hardware functions emulated in host-based driver software. With this implementation approach, adequate real-time behavior is ensured for a large number of applications. If an Ethernet controller with several queues and telegram scheduling (such as the Intel I210™) is used, even the synchronicity and the highest availabilities of a hardware-based master can be achieved.
Unlike the previous solution with a hardware-based Sercos master, with the Sercos SoftMaster, engineers and control manufacturers can now use an industrial PC without special fieldbus hardware and without PCI slots to control the machine. Due to the use of the Sercos SoftMaster in combination with the powerful Intel I210, the CPU load is reduced significantly, while costs and space are also saved.
The Sercos SoftMaster is available as an open source software license for general use in the software pool of Sercos International e.V.
Additional demos as well as a large number of the approximately 250 Sercos-capable products will also be displayed in the Sercos stand.
For more information, please refer to our eNewsletter or visit our website.
About Sercos International
Sercos International is an association of users and manufacturers that is in charge of technical development, standardization, certification and marketing for the Sercos automation bus. Conformance tests guarantee that Sercos implementations are standard-compliant ensuring that devices from different manufacturers can be combined. Based in Germany, the organization presently has more than 90 member companies located around the world and has national liaison offices in North America and Asia.
About Ethernet TSN
Ethernet TSN comprises a series of IEEE 802 sub standards, that are currently elaborated by the IEEE TSN working group and that will probably be released in 2017. The new standards include time-triggered data transmission (IEEE 802.1Qbv Scheduling), bandwidth reservation (IEEE 802.1Qcc Stream Reservation), and measures to interrupt non-time-critical data streams (IEEE 802.1Qbu Frame Preemption). Thus, a completely deterministic communication within the IEEE 802 standard is possible. At the same time additional protocols (streams) may be transmitted over the same medium without affecting the real-time characteristics of the network.
About Sercos
The SErial Realtime COmmunication System, or Sercos, is one of the world's leading digital interfaces for communication between controls, drives and decentralized peripheral devices. Sercos has been used in machine engineering for approximately 25 years and is implemented in over 5 million real-time nodes. With its open, manufacturer-independent Ethernet-based architecture, Sercos III is a universal bus for all automation solutions.
Featured Product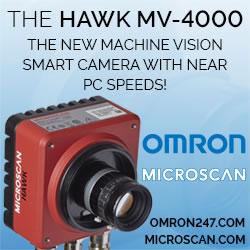 Awe-inspiring power and superior flexibility is sheathed within the contoured casing of the HAWK MV-4000. This smart camera builds upon the previous generation by quadrupling processing power and achieving real-time trigger response using an FPGA. Its state-of-the-art algorithms make it an excellent tool for any industry, whether the requirement be code reading, code verification, inspection, guidance, gauging or a combination of all four.