Motorized rotary actuators integrated with driver and controller
IntelLiDrives, Inc. has released a new motorized rotary actuators - SMART SERIES, integrated with driver and USB controller.

MOTORIZED ROTARY ACTUATOR
The RTLA-30-100-SMART rotary stages provide accurate positioning performance in a low profile and compact footprint. They are perfect for the confines and requirements of the laboratory and are also applicable for use in manufacturing environments. These stages are ideal for optics, measurement, alignment and other demanding applications.
The RTLA-30-100-SMART rotary stages incorporate a precision worm-gear drive mechanism and bearing components for accurate positioning performance over the lifetime of the product.
COMPACT DESIGN
They are motorized with SMART motor/encoder combination and can be controlled in closed position mode offering high resolution and multi-axes daisy-chain operation, with increased speed and high-speed torque.
Compact in size, with only 100x100 mm footprint, RTLA-30-100 has center aperture 30 mm and low profile 45 mm. Choices of worm gear ratios 180:1, 90:1, 45:1 are available to achieve 30 rpm rotation speed and translated resolution of 1.8 arc-sec.
INTEGRATED CONTROLLER
RTLA-30-100-SMART rotary stage can easily "talk over" USB 2.0, RS-232, RS-485, Ethernet and CAN communications interfaces and comes with powerful yet easy to use software packages for system start-up and integration, like communication drivers, linkable DLL libraries, National Instruments Labview drivers and VI examples, GUI and easy-to-use DXF conversion software.
The RTLA-30-100-SMART rotary stage is a member of the Compact Positioning Stages family of linear, rotary, XY and vertical lift stages. Two or more stages can easily be mounted together in numerous combinations using adapter plates and brackets.
These rotary stages are designed to be used in industrial robots, fiber optics and photonics, vision systems, machine tools, assembly, semiconductor equipment, medical component laser machining, micro-machining, electronic manufacturing, and other high-performance industrial automation applications.
Featured Product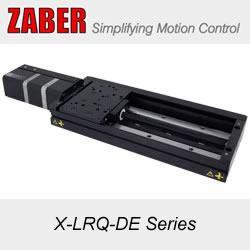 Zaber's X-LRQ-DE Series of linear stages have high stiffness, load, and lifetime capabilities in a compact size. The integrated linear encoder combined with stage calibration provides high accuracy positioning over the full travel of the device. At 36 mm high, these stages are excellent for applications where a low profile is required. The X-LRQ-DE's innovative design allows speeds up to 205 mm/s and loads up to 100 kg. Like all Zaber products, the X-LRQ-DE Series is designed for easy set-up and operation.