Strong interest from international exhibitors and visitors proves HRG's position as a premier robot manufacturer and business partner in the Chinese market
CHICAGO, April 10, 2017 /PRNewswire/ -- HIT Robot Group (HRG), one of China's top robot manufacturing companies, made its U.S. debut in Chicago at Automate 2017. With "Your Golden Partner in China" as key message, the company showcased its latest technologies in smart manufacturing and strong capacity as a premium partner for those who have interest to explore the Chinese market.

"The enthusiasm of visitors and international counterparts at the exhibition has exceeded our expectation," said Lei Zhu, vice-president of HRG. "We are very excited to meet those who have plans to enter the Chinese market. We believe that a consolidated tie-up with the world's leading players in the robotics industry will be of far-reaching significance to China's robotics industry."
HRG showcased three products: a model of automatic lithium battery production line, Lithium Battery Smart Factory, vertical take-off and landing aircraft PHECDA, and the Unmanned Aerial Vehicle (UAV) for agriculture uses MERAK.
Lithium Battery Smart Factory: By fully automating all aspects of production, including logistics, packaging and warehousing, the Lithium Battery Smart Factory increases production efficiency, evidenced by its ability to produce 150,000 lithium batteries per day with an 80% reduction in factory intermediate time and an 85% decrease in laborers.
PHECDA: the UAV breaks the limitations of flight mode of traditional rotor-wing UAVs and fixed-wing UAVs by using four-rotor mode vertical takeoff and landing and fixed-wing cruise mode flight. It features long duration of flight, fast flying speed, long cruising range, high flying height, simple operation, and high security, which is applicable to marine affairs, public safety, anti-terrorism, intelligent transportation, disaster assessment, forest fire prevention, pipeline inspection, environmental protection, geographical mapping, crop screening, geological exploration and other fields.
MERAK: the quad-rotor UAV for agricultural plant protection with completely independent intellectual property right, designed in the systematic and all-round way, achieves the science, intelligence, security and efficiency in agriculture.
In order to introduce the company's innovation and technology, HRG presented how its robots can be used to assemble Luban Lock, a traditional Chinese, three-dimensional wood puzzle, and invited visitors to solve the puzzle with their own hands.
After Automate 2017, HRG continues to seek partners in the United States. On May 14, the company's U.S. branch will host an event at College Park, the University of Maryland, bringing together entrepreneurs, investors, academics, and professional services in robot business from both China and the United States. The event will include speeches on various related topics, roadshow competition, start-up/career expo and dinner gala.
About HIT Robot Group
HIT Robot Group (HRG), founded in 2014, is one of China's high-tech giants in robotics with a joint investment from Heilongjiang provincial government. Harbin municipal government and the Harbin Institute of Technology (HIT). The company manufactures a range of robots and robotic equipment for various industries, and also provides solutions and services for technology companies. HRG has presence in 13 major Chinese cities, along with offices in Washington D.C., California, Frankfurt, Seoul and Tokyo.
Featured Product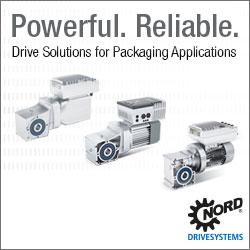 NORD's redesigned line of small CLINCHER parallel gear units showcase increased power and torque capacity for a variety of applications. These re-engineered versions will be replacing the existing SK0182NB, 0282NB, and 1382NB units. They are lightweight, have improved heat dissipation, are more cost-effective, and are available with NORD nsd tupHTM sealed surface conversion for wash-down and extreme environments.