Sercos International, provider of the Sercos® automation bus, will present various Industry 4.0-capable demos during Hannover Fair, April 24 to 28, 2017 in hall 9, stand G28.
Information and communication technologies play a key role in implementing Industry 4.0 concepts. Our modern data bus systems must not only guarantee that machines and facilities can carry out production with safety and precision. They also have to enable consistent access to data relevant to production from any company departments and locations on devices at field level. An Industry 4.0 demonstrator from Sercos International highlights how process and device data are made available not just locally via the real-time bus, but also via OPC UA for a whole range of different application scenarios in a uniform and cross-manufacturer manner.

This makes data exchange between machine peripheries and superior IT systems easier and also supports the requirements of Industry 4.0 regarding semantic interoperability. The multi-protocol capability from Sercos makes various implementation options possible at the same time. One option is that the OPC UA server functionality can be integrated into a machine control. In this case, the control acts as a gateway in which the mapping onto Sercos services and data is implemented. With Sercos III it is also possible to integrate an OPC UA server directly into a Sercos field device (drive, I/O station or sensor). In this case, the OPC protocol is routed directly to the relevant Sercos slave device. The gateway functionality of the control is thus reduced to the function of an Ethernet switch. Due to the Sercos transmission process (no tunneling!), the ability of an OPC client and an OPC UA server to communicate with each other is preserved even without continuous Sercos communication.
If the control wants to pass on the data of the connected field devices filtered or aggregated to the superimposed OPC UA clients, an OPC client can also be integrated into the control. This makes the data collected via Sercos available to other OPC UA clients in edited form via an OPC UA server.
Renesas Electronics is showing another Industry 4.0-capable solution that accelerates industrial networking application development using the new RZ/N series microprocessors. The RZ/N series supports both industrial network protocols and network redundancy protocols for Industry 4.0 on one single chip. The RZ/N brings together multiple industrial networking technologies within a single chip, enabling system manufacturers to develop systems supporting a variety of industrial network protocols and network redundancy protocols in less time.
As a result of different time restrictions and various network control technologies, standard factory networks exist on the one hand from field networks for communication between control devices and other equipment and on the other hand from control networks for communication between different control devices and/or controls. Field networks require real-time controls and use industrial real-time network protocols, such as Sercos.
In addition to Industry 4.0-capable solutions, Sercos International is also showing TSN, open source software solutions and much more.
For more information, please refer to our eNewsletter or visit our website.
About Sercos International
Sercos International is an association of users and manufacturers that is in charge of technical development, standardization, certification and marketing for the Sercos automation bus. Conformance tests guarantee that Sercos implementations are standard-compliant ensuring that devices from different manufacturers are interoperable. Based in Germany, the organization presently has more than 90 member companies located around the world and has national liaison offices in North America and Asia.
About Sercos
The SErial Realtime COmmunication System, or Sercos, is one of the world's leading digital interfaces for communication between controls, drives and decentralized peripheral devices. Sercos has been used in engineering for approximately 25 years and is implemented in over 5 million real-time nodes. With its open, manufacturer-independent Ethernet-based architecture, Sercos III is a universal bus for all automation solutions.
Featured Product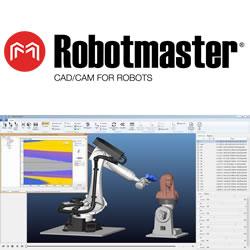 Since Robotmaster V7 uses integrated CAD/CAM functionality, for the first time, the power of Robotmaster can be used by welding, cutting and other process experts without buying or learning complex CAD/CAM software. As in past versions, Robotmaster V7 imports paths, but now makes it even easier for end users to leverage any CAD/CAM tool choice. It is an intuitive tool that anyone could use, with or without robotics expertise. It bridges the gap between robots and manufacturing by providing easy programming solutions for part manufacturing.