No matter how much you automate, your people will remain your most important asset.
MILWAUKEE--(BUSINESS WIRE)--In a meeting in Washington D.C. with Secretary of Commerce Wilbur Ross, Rockwell Automation President and Chief Executive Officer Blake Moret confirmed the company's commitment to supporting programs and policies that will create new, high-paying manufacturing jobs for U.S. workers.

During the meeting with Secretary Ross, Moret, who previously served as chair of the Board of the NAM Manufacturing Institute, highlighted the contributions Rockwell Automation has made to lifelong learning and its critical role in bolstering modern manufacturing competitiveness.
"Lifelong learning for factory workers provides a competitive advantage. No matter how much you automate, your people will remain your most important asset," Moret said. "Suppliers, producers and the government all have a role to play in evolving the workforce to adapt to changes in this industry and to train workers for these highly skilled roles."
Rockwell Automation, the largest company focused purely on industrial automation and information systems, works with more than 80 percent of U.S. manufacturing companies. As a longtime advocate for American manufacturing, the company has made significant investments in lifelong learning to help prepare workers for careers in manufacturing, as well as for new roles as technologies and jobs evolve.
Company support includes programs for both employees and customers, including:
A comprehensive training program that prepares 15,000 individuals annually through combined classroom learning and on-the-job training.
Government partnerships including the Department of Defense's new public-private Manufacturing USA initiative, the Advanced Regenerative Manufacturing Institute. Rockwell Automation is the critical industrial automation partner in the effort to innovate mass production of tissue and organ biofabrication. The partnership includes a $10 million donation over five years.
An ongoing commitment to encouraging new careers in STEM, including a recent $12 million, four-year commitment to FIRST ® (For Inspiration and Recognition of Science and Technology), founded to spark young people's interest and inspire their participation in science and technology.
An award-winning Culture of Inclusion program that addresses the recruitment, development and advancement of women that has led to proven, measurable results.
"The meeting with Secretary Ross was beneficial in establishing a dialogue about how we can build the future of U.S. manufacturing. Rockwell Automation is dedicated to advancing the industry through lifelong training, workforce development, technology advancements and meaningful partnerships," said Moret. "We look forward to working with Secretary Ross and his team on these issues."
About Rockwell Automation
Rockwell Automation Inc. (NYSE: ROK), the world's largest company dedicated to industrial automation and information, makes its customers more productive and the world more sustainable. Headquartered in Milwaukee, Wisconsin, Rockwell Automation employs approximately 22,000 people and serves customers in more than 80 countries.
Featured Product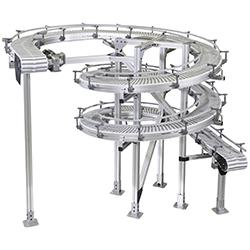 Dorner's 2200 Series SmartFlex Helix Conveyor's compact, flexible design and small footprint maximizes valuable floor space while providing customers with flexibility in layout. The custom infeed and outfeed lengths allow the conveyor to extend beyond the spiral, reducing the number of conveyors required. The Helix Conveyor is ideal for applications including accumulation, buffering, cooling between processes or machines, and more!