A panel of industry veterans selected Mike Littrell of CIDEAS, Inc. and Vince Anewenter of Milwaukee School of Engineering as winners of the annual Technical Competition.
The Additive Manufacturing Users Group (AMUG) today announced the winners of its annual Technical Competition, which was held during the group's 29th annual conference in Chicago, Illinois. A panel of industry veterans selected Mike Littrell of CIDEAS, Inc. and Vince Anewenter of Milwaukee School of Engineering as winners of the competition.

Mike Littrell's winning entry in the Advanced Finishing category was an exquisite replica of a 1931 Cord Series L-29 Cabriolet. Specifically, it is a replica of #2929409 that was named "Matilda" by Mike's father, Gary, when he owned this amazing vehicle. In collaboration with Brian Yingling, who created the CAD models and performed detail finishing, CIDEAS brought this car to life using Fused Deposition Modeling (FDM) and Stereolithography (SLA). According to Littrell, 99.9% of the car is 3D printed; the only exceptions are fabric and leather coverings, brass spokes, and brass nuts.
Andrew Graves, equipment partnership manager for DSM Functional Materials, said, "As a judge in this year's AMUG Technical Competition my job was incredibly difficult. In the Advanced Finishing category, some of the detailed work, painting skills, and finishing skills were faultless. Ranking the entries really came down to who had truly pushed the boundaries of finishing techniques."
Vince Anewenter's winning entry in the Advanced Concepts category was titled, "Tamper Proof Gages." Judges cited the practicality of the application and the ingenuity in resolving a common problem as reasons for the award. The gage was made for Capitol Stampings Corp. to allow shop-floor personnel to quickly perform several quality control measurements on two versions of a stamped part. The ingenious aspect is that Anewenter's team elected to use a ceramic-filled SLA resin that would fracture if struck or dropped. Fracturing prevents a common problem of unreported gage damage, which can lead to unnecessary scrap and rework.
Graves said, "In the Advanced Concepts category, the challenge was really to find entries that genuinely pushed the envelope in terms of a unique or advanced use for additive manufacturing. This year's winner in that category proved that thinking outside the box sometimes yields a solution that can be beautiful in its simplicity."
For Advanced Concepts, Ryan Van Deest of Caterpillar Inc. took second place with a working 1:9 scale model of the company's CAT 336 D2 hydraulic excavator. Third place was awarded to Richard Smeenk of Agile Manufacturing for a 58-inch, single-piece-construction boat console.
In the Advanced Finishing category, Patrick Walls of Laser Prototypes Europe Ltd. (LPE) was awarded second place for a recreation of the DeLorean time machine from "Back to the Future." Mike Scianna and John Warner of DSM Functional Materials took third place with a three-foot-tall replica of a samurai.
As winners of the Technical Competition, which recognizes excellence in additive manufacturing applications and skill in finishing additive manufacturing parts, Littrell and Anewenter each received complimentary admission to the 2018 AMUG Conference and a commemorative award. Judges for the Technical Competition were Graham Tromans, Andrew Graves, Tim Gornet, Judy Gill and Steve Kossett.
ABOUT ADDITIVE MANUFACTURING USERS GROUP (AMUG)
AMUG is an organization that educates and advances the uses and applications of additive manufacturing technologies. AMUG members include users of all commercial additive manufacturing/3D printing technologies used in professional capacities from companies such as Stratasys, 3D Systems, ExOne, Renishaw, Carbon, HP Inc., SLM Solutions, EOS, Concept Laser, and Prodways. AMUG meets annually to provide education and training through technical presentations on processes and new technologies. This information addresses operation of additive manufacturing equipment and the applications that use the parts they make. Online at http://www.am-ug.com.
Featured Product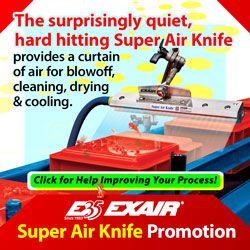 Reversible Drum Vac & High Lift Reversible Drum Vac - Pump 55 gallons in 90 seconds! Two-way pumping action! EXAIR's compressed air operated Reversible Drum Vac and High Lift Reversible Drum Vac attached quickly to any closed head 30, 55, or 110 gallon drum and can fill a 55 gallon drum in less than two minutes. With the simple turn of a knob, the same stainless steel pump quickly empties the drum. High Lift Drum Vac lifts up to 15 feet. Chip Trapper & High Lift Chip Trapper - Vacuums in liquid with solids and pumps out only liquid! Machine tools commonly discharge some chips and shavings into the coolant sump. The Chip Trapper and the High Lift Chip Trapper vacuums coolant or liquid that is filled with debris and traps all the solids in a reusable filter bag, leaving your coolant clean. High Lift Chip Trapper cleans with up to 15 feet of lift. See our current Promotion and all of the other Industrial Vacuums available.