Design support service providers capable of delivering mechanical designs by understanding the manufacturing firms tooling capacity and shop floor conditions; is exactly the need of the hour.
According to a report by United Nations, world population is likely to rise up to 8.5 Billion by 2030. Increase in population will increase the demand of food products, construction and infrastructure facilities etc. As a consequence; heavy machinery equipment used for manufacturing food products and infrastructure will need a sophisticated approach.

Heavy machinery equipment manufacturers will have to shift their focus on delivering high quality end products. Increased demand of efficient end product will require to have a fine understanding of the gaps between CAD drafts (and 3D CAD models), and shop floor manufacturing to overcome them successfully.
Common Challenges for Heavy Machinery Equipment Manufacturers
Along with worldwide demographic changes, constantly fluctuating customer demands is another major challenge. It puts heavy machinery equipment manufacturers in a new dilemma of finding ways of responding to customers' demand quickly. Such unpredictable customer demands cause hurdles in the entire supply chain, including inventory management. In order to overcome such challenges, inventory managers are compelled to maintain and manage more than required inventory [for smaller components forming building block of the machinery] in the pipeline, to meet unprecedented demands.
Ironically, the solution of maintaining inventory has instead attacked the inventory itself. Managing inventory and safe transit has become a problem due to lack of coordination and visibility in supply chain. Hence, as an alternate solution; heavy machinery equipment manufacturers emphasize on innovating existing designs rather than designing and launching new products from scratch.
Overcoming these Challenges with Design Support Service Providers
In this era of increased demand; innovations have taken the front seat and require dedicated teams of equipment design engineers. 2D CAD drafting and 3D modeling have become a secondary task for in-house equipment design engineers, who are employed at heavy machinery equipment manufacturing firm. Efforts made by equipment design engineer are focused to deliver better finished equipment through enhanced designs.
A design support service provider capable of delivering component designs with and understanding of manufacturing firm's tooling capacity and shop floor conditions proves to be a savior. Being able to develop comprehensive designs & assembly drawings; a design support service provider works in collaboration with the manufacturer's in-house design team to deliver best design solutions. CAD models with BOMs developed by design support experts, offer an advantage to the manufacturer in form of insights for developing new product. Another major advantage of these CAD models is that they give a sharp edge in comparing competitor's product and analyze it.
For heavy equipment machinery manufacturers, there are several identical parts that have repetitive usage with minor design changes. Offshore Design Company with design automation capacity essentially removes this barrier, as they have shop floor understanding to develop a fine collaboration with fabricators. For example an axel or a screw finds application in various heavy duty vehicles such as articulating truck, bulldozer etc. When the designs are automated, fabricators see a drastic reduction in engineering lead time. With assistance from a design support provider, heavy machinery equipment manufacturer can set loose the acute needs of surplus inventory and can instead practice Engineer-to-Order [ETO].
Once the CAD design drafting is handled by an offshore engineering design solution provider, in-house design engineers can solely focus on innovations and implementing them in their designs. Furthermore, design engineers can study customer demands and changes can be incorporated in coordination with the design support service provider.  
Other inherent benefits with offshore design partner
By outsourcing 2D drafting &
3D designs of heavy machinery equipment
, design benefits like accuracy in GD&T of the smallest component, quick enabled design changes, and ensured design data management for future usage are inherent. Indirectly, equipment design engineers can utilize their time in more productive works like enhancement of designs and inculcating innovation to new products. Also, when the drafting and modeling is contracted to an offshore design partner, it saves the manufacturer from managing surplus manpower and infrastructure; ultimately resulting in cost reductions.
Conclusion
It thus goes without saying that a design support service provider brings more to table than in-house design engineers can; especially when innovations have taken the front seat. The goals of both, service provider and heavy machinery equipment manufacturer are aligned with each other and work in the same direction with an aim to reduce Engineering Change Orders. This ultimately empowers the manufacturer to meet rising customer demands originating from demographic changes without worrying about inventory management.
Featured Product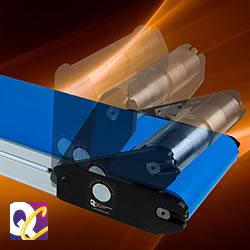 AS40 Conveyors are designed for ease of use and simple integration with robotic applications. Built on a rigid aluminum frame, they feature tee slots for rapid accessory mounting and a tail that flips up at the push of a button for easy under-belt cleaning and belt changes. Nosebar tails are available for transferring small parts between conveyors. All conveyors include a 10 Year Warranty and most are available with a fast five day lead time.