Next-generation VR technology improves end effector production accuracy and speed
Auburn Hills, MI (March 29, 2017) - DESTACO, the industrys leading global provider of high-performance automation, workholding and containment solutions, is proud to announce the launch of its new Accelerate® Vision Virtual Reality (VR) digital design solutions tool. The Accelerate Vision VR tool will be on display for attendees in Booth No. 1436 at the upcoming Automate 2017 Trade Show, which will be held from April 3-6, 2017, at McCormick Place in Chicago, IL.

Taking advantage of the latest advances in VR technology, the Accelerate Vision tool has been designed to work in the production of DESTACOs Accelerate® Collection end effector components, which can be assembled into custom solutions for most pressroom stamping applications.
As the speed of manufacturing continues to increase, the design process for these components must also be accelerated while meeting strict demands regarding die-making and tooling accuracy and precision. By utilizing the Accelerate Vision VR digital design tool at the beginning of the design process, DESTACO is able to precisely build an end effector based on customer-supplied models and also provide detailed information and data to die-makers. This enables the die-makers to streamline their design and review process. The result is tooling that is accurate with an overall improvement in product quality for the end-user.
"Upon design review, the Accelerate Vision VR tool allows us to create complete process simulations," explained Stefan Eggers, DESTACOs Vice President, Global Sales & Service. "This key analysis and simulation enables us to capture interface positioning, additional collision points and maximize the press speed. After detailed simulation analysis is verified, we can move to accurately build and validate the end effector tool."
The Accelerate Vision VR tool is part of DESTACOs suite of Accelerate® Digital Solutions, which also includes simulation and manufacturing components. These Digital Solutions also allow the use of robot-assisted production cells during manufacturing operations, with the robot possessing the capability to increase the precision in which parts are built without the need for samples or 2D drawings. Once the construction of the component is complete, it goes through a laser-validation process to confirm that all measurements are in compliance with the approved design.
For more information about DESTACOs Accelerate® Digital Solutions, please visit destaco.com.
About DESTACO
DESTACO, a Dover company, is a global leader in the design and manufacture of high-performance automation, workholding and remote-handling solutions. The company serves customers in a variety of end-markets, including the automotive, life sciences, consumer goods, packaging, aerospace and nuclear sectors.
Built on a legacy of more than 100 years, DESTACO offers a comprehensive portfolio of products designed to engineer precise movement, placement and control solutions that drive productivity and uptime for manufacturers around the world. The DESTACO family of products consists of industry-leading brands such as DESTACO Manual and Power Clamps, CAMCO™ and Ferguson™ Indexers, Robohand™ Grippers and CRL™ Manipulators and Transfer Ports.
DESTACO is based in Auburn Hills, MI, and operates globally through approximately 800 employees across 13 locations.
The Dover Corporation is a diversified global manufacturer with annual revenues of $7 billion. The company delivers innovative equipment and components, specialty systems and support services through four major operating segments: Energy, Engineered Systems, Fluids, and Refrigeration & Food Equipment. Headquartered in Downers Grove, IL, Dover trades on the New York Stock Exchange under "DOV." More information is available at destaco.com and dovercorporation.com.
Featured Product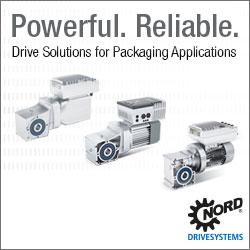 NORD's redesigned line of small CLINCHER parallel gear units showcase increased power and torque capacity for a variety of applications. These re-engineered versions will be replacing the existing SK0182NB, 0282NB, and 1382NB units. They are lightweight, have improved heat dissipation, are more cost-effective, and are available with NORD nsd tupHTM sealed surface conversion for wash-down and extreme environments.