SAMSON to invest in and leverage 3DSignals deep learning technology to develop smart valves with embedded predictive process intelligence and maintenance capabilities.
3DSignals, the leader in sound-based predictive maintenance, and SAMSON AG, a global leader in control valve technology, have announced a strategic partnership to integrate 3DSignals' artificial intelligence-based acoustic monitoring technology into SAMSON flow control devices and systems.

SAMSON will begin offering smart valves with embedded acoustic monitoring capabilities for process intelligence as soon as Q4 of 2017.
"The SAMSON name has become synonymous with low-maintenance products for the most challenging industrial applications," said Dr. Andreas Widl, CEO of SAMSON. "This is the right time for us to begin collaborating with companies like 3DSignals that are driving innovation in IoT and artificial intelligence. This will enable us to go beyond devices and into new services such as adaptive predictive maintenance, and gain process control insights that are rapidly becoming a must in today's digitized manufacturing environments," said Dr. Widl. "Our customers will see immediate value through smart data, and SAMSON intends to increase cooperation with technology innovators to spearhead this trend."
"It was very clear from our initial discussions that SAMSON is extremely focused on advancing the flow control space through innovation," said Amnon Shenfeld, Co-Founder and CEO of 3DSignals. "The synergy was obvious. 3DSignals identifies, learns and sends alerts of phenomena that are strongly correlated with equipment deterioration or indicative of process control inefficiencies. Also, we are seeing adoption by the same industries SAMSON operates in such as energy, oil and gas, and chemicals and petrochemicals," said Shenfeld. "With SAMSON's reputation for uncompromising quality and our innovative approach to applying artificial intelligence in the plant, we see a great fit and win-win for both sides."
3DSignals' system includes airborne ultrasonic sensors that detect anomalies in the sound that machines make while running. The platform's deep learning and predictive analytics software processes these sound signals and aggregates the data, allowing authorized users to receive real-time alerts 24/7 from any remote location. 3DSignals specially developed the sensors for harsh industrial environments and uses highly directional microphones to filter out ambient noise. The system, which was designed with the highest security standards in mind can be deployed in minutes and requires only a power supply.
About 3DSignals
Founded in 2015, 3DSignals, pioneered the application of sound-based predictive maintenance for industrial and manufacturing equipment. Using the company's proprietary hardware and software system, 3DSignals customers can listen to their machines such as pumps, turbines, hydraulics, motors, compressors, robotics, bearings, and gearboxes; with airborne ultrasonic sensors, anticipate problems with real-time alerts, and reduce unplanned downtime with predictive analytics. The company is headquartered in Kfar Sava, Israel. For more information, visit http://3dsig.com.
About SAMSON
SAMSON manufactures control and butterfly valves for use in all areas of process engineering as well as self-operated regulators for simple control systems with a constant reference variable. Sophisticated transmitters, controllers, and automated systems round off the SAMSON product line. Together with the SAMSON subsidiaries (AIR TORQUE, CERA SYSTEM, KT-ELEKTRONIK, LEUSCH, RINGO VÁLVULAS, PFEIFFER, SAMSOMATIC, STARLINE, and VETEC), SAMSON offers a product portfolio to meet all industrial process requirements, and operates in the US as SAMSON CONTROLS.
http://samsoncontrols.com.
Featured Product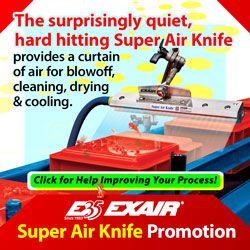 EXAIR Cabinet Cooler® Systems are a low cost, easy to install, maintenance free way to cool and purge electronic control panels. EXAIR Cabinet Coolers incorporate a vortex tube that produces cold air from ordinary compressed air - with no moving parts. The compact Cabinet Cooler can be installed in minutes through a standard electrical knockout. NEMA 12, 4, and 4X (IP54 and IP66) Cabinet Coolers that match the NEMA rating of the enclosure are available in many cooling capacities for large and small control panels. NEMA 12 Cabinet Coolers are ideal for general industrial environments where no liquids or corrosives are present. NEMA 4 Cabinet Coolers incorporate a low pressure relief valve for both the vortex tube and cabinet air exhaust. This valve closes and seals when the cooler is not operating to maintain the integrity of a NEMA 4 enclosure. NEMA 4X Cabinet Coolers offer the same protection as NEMA 4 but are constructed of stainless steel for food service and corrosive environments.