Significant Demand for Professional Desktop 3D Printers for the Enterprise Fuels Growth in Reseller Network
CAMBRIDGE, Mass., March 28, 2017 /PRNewswire/ -- Ultimaker, the leading open source 3D printer manufacturer, announced today a substantial expansion of its network of channel partners in North America. Less than a year after establishing a U.S. headquarters, resellers of Ultimaker's desktop 3D printer have increased by 350%. As a new version of its industry-leading product was rolled out in 2016 - the Ultimaker 3 - companies across industries such as automotive, aerospace, health care, education and more have integrated Ultimaker's accessible 3D printing solutions into key strategic business outputs like rapid prototypes, end-use parts and concept models.

"The launch of the Ultimaker 3 marked a significant milestone in our expansion into the professional and enterprise space. To meet the growing demand for Ultimaker printers in the marketplace, we've strategically built out our channel partner network across the U.S. and Canada," said John Kawola, President of Ultimaker, North America. "We are replicating the success that Ultimaker has had in the European market by setting up our North American headquarters in Boston, as well as an office in New York City, and by partnering with trusted resellers."
In North America, Ultimaker now has 26 resellers including Dynamism, Matterhackers, Stemfinity, 3D Universe, Adafruit, MCM Electronics, Technology Education Concepts, Inc. and DELRAY Systems, and continues to expand its network of partners. With this broad channel strategy, Ultimaker can make products available locally, but more significantly, offer the highest-level of local service and support due to an intensive reseller training program.
Momentum has been strong for Ultimaker in North America since its U.S. headquarters opened in April of 2016. In addition to the availability of the Ultimaker 3, the company launched the Pioneer Program, promoting 3D printing across all levels of education, and announced four new materials specific to industrial-grade printing.
Additional information on resellers is available at on the Ultimaker website.
About Ultimaker
From the very beginning Ultimaker's vision has been to make 3D printing accessible to all. It is why all their desktop printers are extremely quiet, fast, accurate, reliable and effortless to use. Such a commitment has been embraced by professionals and novices alike. This has also helped Ultimaker to become one of the most successful and reliable open source 3D printing companies in the world.
Featured Product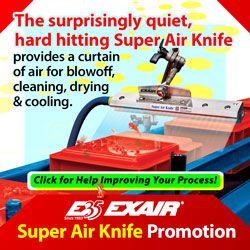 EXAIR Cabinet Cooler® Systems are a low cost, easy to install, maintenance free way to cool and purge electronic control panels. EXAIR Cabinet Coolers incorporate a vortex tube that produces cold air from ordinary compressed air - with no moving parts. The compact Cabinet Cooler can be installed in minutes through a standard electrical knockout. NEMA 12, 4, and 4X (IP54 and IP66) Cabinet Coolers that match the NEMA rating of the enclosure are available in many cooling capacities for large and small control panels. NEMA 12 Cabinet Coolers are ideal for general industrial environments where no liquids or corrosives are present. NEMA 4 Cabinet Coolers incorporate a low pressure relief valve for both the vortex tube and cabinet air exhaust. This valve closes and seals when the cooler is not operating to maintain the integrity of a NEMA 4 enclosure. NEMA 4X Cabinet Coolers offer the same protection as NEMA 4 but are constructed of stainless steel for food service and corrosive environments.