NEON-1021-M delivers high performance all-in-one machine vision performance with no programming requirement
ADLINK Technology, a leading global provider of trusted machine vision products, today announced the release of its new NEON-1021-M Intel® Atom™ E3845 processor-based ready-to-go smart camera with MVTec MERLIC. Equipping its state-of-the-art quad-core smart camera with an easy-to-use machine vision software, the NEON-1021-M significantly increases competitive advantage, exceeding basic smart camera advantages for machine vision development.

This unique solution will be featured at North Americas largest Automation trade fair, Automate, in Chicago from April 3-6. ADLINK and MVTec booths are located next to each other (#569 and #567) and will demonstrate how this uniquely integrated solution can meet your vision system needs and lower your total cost of ownership. Both companies will have plenty of experts on hand to answer all of your questions.
"MERLIC's ease-of-use and its powerful machine vision software tools, combined with ADLINK's state-of-the-art imaging hardware, provide quick deployment of solutions with minimal configuration effort. This makes the combination ideal for facing the challenges of increasingly fast-paced markets". -- Torsten Wiesinger, Sales Director, MVTec Software GmbH
ADLINKs NEON-1021-M features high performance quad-core Intel® Atom™ processors, speedy multi-ROI image capture, 2MP global shutter image sensors, and PWM lighting control support. High-speed multi-barcode capture by multi-ROI function shortens image processing cycle time, and optimized I/O includes one additional slave GigE Vision camera connection, 4x isolated input, 4x isolated output, and VGA output for maximized integration with external devices. Rugged construction with IP67-rated housing and M12 connectors enables the NEON-1021-M to withstand the harshest industrial environments.
"ADLINKs NEON smart camera series breaks the boundaries of smart camera and embedded vision systems, and the integration of the easy-to-use machine vision software MERLIC makes it a simple matter for system integration to fulfill a wide variety of inspection application needs." Simon You, Product Director, Automation Business Center at ADLINK Technology Inc.
MVTec MERLIC is an all-in-one tool for quickly building machine vision applications with no programming requirement. Based on MVTec's extensive machine vision expertise and combining reliable, fast performance with ease of use, the PC-based complete software solution features an image-centric user interface, intuitively guiding the user through the application. Similar to a WYSIWYG editor (what-you-see-is-what-you-get), developers can focus on the image-based display rather than complex lines of code or parameter lists. MERLIC is particularly suited to operations that favor a clear, graphical user interface for configuring imaging functions.
NEON-1021-M Features:
Image-centered user interface
Machine vision application with no need for programming
Integrated tool library
2MP 60 fps resolutions, monochrome global shutter CMOS sensors
Multi-ROI function replaces multi-camera barcode reader solution
Additional GigE Vision 1 slave camera support
IP67-rated housing and M12 connectors
EMVA 1288-verified superior image quality
Learn more: NEON-1021
ABOUT ADLINK
ADLINK Technology is enabling the Internet of Things (IoT) with innovative embedded computing solutions for edge devices, intelligent gateways and cloud services. ADLINK's products are application-ready for industrial automation, communications, medical, defense, transportation, and infotainment industries. Our product range includes motherboards, blades, chassis, modules, and systems based on industry standard form factors, as well as an extensive line of test & measurement products, smart touch computers, displays and handhelds that support the global transition to always connected systems. Many products are Extreme Rugged™, supporting extended operating temperature ranges, and MIL-STD levels of shock and vibration.
ADLINK is a Premier Member of the Intel® Internet of Things Solutions Alliance and is active in several standards organizations, including the PCI Industrial Computer Manufacturers Group (PICMG), the PXI Systems Alliance (PXISA), and the Standardization Group for Embedded Technologies (SGET).
ADLINK is ISO-9001, ISO-14001, ISO-13485 and TL9000 certified and is publicly traded on the TAIEX Taiwan Stock Exchange (stock code: 6166). In addition to Taiwan, ADLINK has R&D and manufacturing facilities in San Jose, California; Shanghai, China; and Manheim Germany. An extensive network of worldwide sales and support offices are also available to meet the needs of our global customers. For more information on ADLINK, please visit http://www.adlinktech.com.
ABOUT MVTEC
MVTec Software GmbH is a leading manufacturer of standard software for machine vision. MVTec products are used in all demanding areas of imaging: Semi-conductor industry, web inspection, quality control and inspection applications in general, medicine, 3D vision, and surveillance. MVTec, with its head office in Munich (Germany), has more than 30 established distributors worldwide and in addition, MVTec, LLC works out of Boston, MA (USA).
ABOUT MERLIC
MVTec MERLIC is an all-in-one software product for quickly building machine vision applications without any need for programming. It is based on MVTec's extensive machine vision expertise and combines reliable, fast performance with ease of use. An image-centered user interface and intuitive interaction concepts like easyTouch provide an efficient workflow, which leads to time and cost savings. MERLIC provides powerful tools to design and build complete machine vision applications with a graphical user interface, integrated PLC communication, and image acquisition based on industry standards. All standard machine vision tools such as calibration, measuring, counting, checking, reading, as well as position determination are included in MERLIC. These are all based on the latest state-of-the-art machine vision technologies, such as matching or deep learning.
Featured Product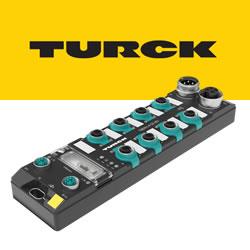 The new IP67 Managed Ethernet Switch from Turck provides standard and Gigabit ports in the same device. Configure, manage, and monitor connected machines and devices remotely, outside of a control cabinet. Find out more about this rugged solution for decentralized control. Part number TBEN-Lx-SE-M2. • Gigabit high-speed backbone for fast link-up times • Standard and Gigabit ports on the same device • Web-based diagnostic tools for preventive maintenance • Built-in security with the use of VLAN, NAT routing and firewall