Automate Demos to Showcase Multi-Axis Force/Torque Sensors that Automate Manufacturing Tasks, Reducing Production Costs and Returning Jobs to the United States
BUDAPEST, Hungary--(BUSINESS WIRE)--Robotics company OptoForce today opened a U.S. office missioned with bringing a much-needed sense of touch for robots. Already used successfully in medical and service sectors and other difficult-to-automate assembly tasks throughout Europe and Asia, the companys 6-axis force/torque sensors will be featured at Automate 2017 April 3-6 in Booth #469.

Easy-to-install, light-weight and robust, the OptoForce 6-axis sensors create a sense of touch for robots required to perform high-precision work such as polishing, box insertion, and other finer assembly tasks. Currently compatible with robots from Universal Robots and KUKA - and soon with ABB and Yaskawa, OptoForce sensors automate these tasks, increasing efficiency, speeding project development and decreasing overall production costs.
"With robots working more closely with humans, they need to accurately and precisely sense their surroundings and accomplish many tasks requiring the dexterity and sensitivity of the human hand," said Ákos Dömötör, CEO, OptoForce. "Equipped with OptoForce high-precision sensors, these robots can now feel if they are placing an object in the right place or need to adjust it, and can automatically correct course. This speeds the production process and ultimately decreases costs, an ideal scenario for many U.S. manufacturers that have long offshored production due to high labor costs and the traditionally high cost of automation."
OptoForce founders, then university students, worked together on a walking robot, where they faced constant issues with the weight, rigidity and cost of then available multi-axis force sensors. To address the many challenges, they developed a prototype of the current sensors that used infrared light to detect deformations of the silicone sensor structure. This radically new and unique approach forms the basis of the current OptoForce solution and guarantees precise measurements even up to 200 percent overload.
Gary Eliasson to Lead OptoForce North American Efforts
Gary Eliasson will champion this technology and lead the OptoForce office in introducing a sense of touch to North American automation. OptoForce launches this initiative at a good time. With the 2016 North American robotics market breaking all-time records in orders and shipments, according to the Robotic Industries Association (RIA) survey, OptoForce looks forward to playing a seminal role in the automation of North American manufacturing initiatives.
"Todays robotics tasks require a new level of sensitivity," Eliasson said. "OptoForce delivers this level of competence, outperforming related technologies in precision, cost, strength and flexibility. This opens up opportunities for companies to decrease costs and improve productivity."
Eliasson first mandate will be to develop a strong distributor network. Current OptoForce distributors include Essential Robot Products and The Knotts Company, Inc.
OptoForce expansion is backed by robot technology investor, Enrico Krog Iversen, as well as private equity investors Day One Capital and Finext Startup. Iversen sold Danish robot manufacturer Universal Robots to the U.S.-based Teradyne in 2015.
See OptoForce at Automate 2017
OptoForce will exhibit at Automate 2017, Booth #469, with additional applications showcased at the Essential Robot Products booth (#1407) and the Universal Robot booth (#1245) as a UR+ partner.
About OptoForce:
Founded in 2012, in Budapest, Hungary, OptoForce offers the leading robotics technology for multi-axis force sensors. OptoForce force/torque sensors use infrared light to detect deformations of the silicone sensor structure as weight or other forces change and can adjust its hold on the component, introducing a sense of touch for robotics grippers and automation technologies. OptoForce develops and supplies these radically new sensors via distributors to a broad range of industries, including health care, gaming, automotive, industrial robotics, and home appliances markets. Learn more at www.OptoForce.com
Featured Product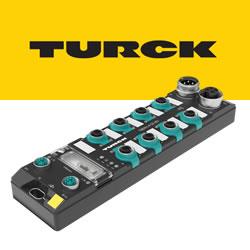 The new IP67 Managed Ethernet Switch from Turck provides standard and Gigabit ports in the same device. Configure, manage, and monitor connected machines and devices remotely, outside of a control cabinet. Find out more about this rugged solution for decentralized control. Part number TBEN-Lx-SE-M2. • Gigabit high-speed backbone for fast link-up times • Standard and Gigabit ports on the same device • Web-based diagnostic tools for preventive maintenance • Built-in security with the use of VLAN, NAT routing and firewall