Dr. Tepper Will Address Use of 3D Printing and Virtual Surgical Planning in Recent Surgery to Separate Conjoined Twins at Rising Media's Inside 3D Printing New York
Rising Media, Inc., a global events producer specializing in technology-related conferences and exhibitions, announced that Oren Tepper, M.D., director, Craniofacial and Aesthetic Surgery, Montefiore Health System and assistant professor of Surgery, Albert Einstein College of Medicine, will present the opening keynote address at Inside 3D Printing Conference & Expo. The industry's leading business-to-business event will return to the Javits Convention Center in New York City for its fifth annual conference, where it will run from March 14 - 15, 2017. Thousands of additive manufacturing professionals are expected to attend the event for two days of education, exhibitions, special events, and networking opportunities.

Dr. Tepper, a pioneer in using 3D printing technology in plastic and reconstructive surgery, recently made international headlines as part of the surgical team that successfully separated then 13-month old conjoined twins, Jadon and Anias McDonald, at the Children's Hospital at Montefiore in New York. Dr. Tepper's keynote address on March 14th at 9am, titled, "How 3D Printing and Virtual Surgical Planning Made it Possible to Successfully Separate Conjoined Twins," will highlight the evolution of this technology and the critical role it played in this landmark case.
"We're honored that Dr. Tepper is joining us at Inside 3D Printing next week to share his tremendous experience and insight into the use of 3D printing in plastic and reconstructive surgery for nearly a decade," said Matthew Finlay, CEO of Rising Media. "His presentation will provide our attendees with a first-hand look at cutting-edge medical applications for 3D printing, in the same way that the rest of our faculty will address new strategies and techniques for technology in manufacturing, metals, and business."
Following Dr Oren's keynote is a full track on the advances 3D Printing is bringing to the medical profession, chaired by Bunny Ellerin, Co-Founder & President of NYC Health Business Leaders and ‎Director, Healthcare and Pharmaceutical Management Program at Columbia Business School.
The event's keynote program will also feature Tyler Benster, General Partner at Asimov Ventures, who will discuss "How Startups are Disrupting the Factory with 3D Printing" (March 14th at 1pm); and Terry Wohlers, Principal Consultant at Wohlers Associates, who will address "The Future of 3D Printing" (March 15th at 9:50 am). A complete conference agenda, schedule, and speaker list can be found online at inside3dprinting.com/new-york.
Inside 3D Printing is the largest professional 3D printing event series worldwide, with 38 events hosted globally since its launch in 2013. The event has earned a well-deserved reputation for its world-class conference program, which this year will feature day-long dedicated conference tracks on 3D printing applications in four distinct areas: Metal, Medical, Manufacturing, and Business.
In addition to the conferences, other Inside 3D Printing New York highlights include:
Exhibit Hall - where the industry's most innovative companies showcase their latest innovations and services in 3D printing, including 3 HTi, 3DPrint.com, A-Team Ventures, Asimov Ventures, Aurora Labs 3D, Chemcubed, Cimquest Manufacturing Solutions, DesignPoint, Esun Industrial Co., Ltd., FlackTek Speedmixer, Flashforge USA, Formlabs, Igus Inc., i.materialise, New Valence Robotics, ProtoCAM, Recreus, Guangdong Silver Age Sci. & Tech. Co., Ltd., Stardust, TechniPrint, Titan 3D, WASP, and Winrigo (S) Pte Ltd.
Frontier Tech Showdown (March 14, 4:40 pm) - the premier pitch event for seed-stage startups in 3D Printing, Virtual Reality, and Robotics. Past participants, including 3D Hubs, Wiivv, Voxel8, Metamason and Cellink, have gone on to raise more than $60 million and have a cumulative market cap of over $180 million. Asimov Ventures will present this year's winner with an uncapped SAFE for $15,000 following this year's event. Competing startups for this year's event include: 3DFortify, Form Alloy, Brain2Bot, Nanogrande, and Kwambio.
For additional information on this year's Inside 3D Printing event in New York City, please visit inside3dprinting.com/new-york.
If your company is interested in sponsoring or exhibiting at Inside 3D Printing New York or an upcoming event, please contact sponsorship(at)risingmedia(dot)com.
About Rising Media
Rising Media is a global events and media producer excelling in Internet and technology-related events and content. Events include Inside 3D Printing, RoboUniverse, Virtual Reality Summit, Data Driven Business, Building Business Capability, Predictive Analytics World, Text Analytics World, eMetrics Summit, Conversion Conference, AllFacebook Marketing Conference, Search Marketing Expo, Affiliate Management Days, Influencer Marketing Days, Future of Immersive Leisure, Global Online Classifieds Summit, and Web Effectiveness Conference in the USA, United Kingdom, Germany, France, Italy, India, China, Korea, Singapore, Australia, Brazil.
For more information, please visit http://www.risingmedia.com.
Featured Product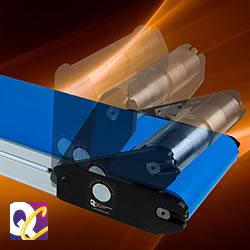 AS40 Conveyors are designed for ease of use and simple integration with robotic applications. Built on a rigid aluminum frame, they feature tee slots for rapid accessory mounting and a tail that flips up at the push of a button for easy under-belt cleaning and belt changes. Nosebar tails are available for transferring small parts between conveyors. All conveyors include a 10 Year Warranty and most are available with a fast five day lead time.