Educational webinar will offer a road map on how disruptive technologies can fit into an enterprise application architecture.
ANN ARBOR, Michigan, 10 March 2017—CIMdata, Inc., the leading global PLM strategic management consulting and research firm, announces an upcoming free educational webinar, "How to apply IoT, Industry 4.0, and Predictive Analytics in the Manufacturing Domain." The webinar will take place on Thursday, April 13, 2017 at 11:00 a.m. (EDT) and will last for one hour.

Computer-Aided Manufacturing (CAM) has been used in many industry sectors over the past several decades. However, current practices do not leverage all the opportunities available to improve the creation of information and decision-making. This technology is on the cusp of change with the advancement of interconnected devices and industry standards. Those who enable IoT and Industry 4.0 processes will expand their digital product definition to better manage and service the products they bring to market. By improving the digital definition of a product using Product Lifecycle Management (PLM) enabling technologies, industrial customers can enable greater factory efficiency and automation. This webinar will concentrate on new and emerging (disruptive) technologies including Internet of Things (IoT) and Industry 4.0 practices, as well as applying Predictive Analytics.
According to the webinar host, CIMdata's Director for Manufacturing Systems Engineering, Michael Fry, "IoT, Industry 4.0 processes, including predictive analytics and asset lifecycle maintenance, are beginning to play a major part in conventional manufacturing. The ability to sensor and monitor all aspects of the manufacturing process is creating a flood of data. It is our job to make this data available and relevant to clients when they are making decisions that impact the bottom line. PLM technologies, together with enterprise applications, are the solution."
Mr. Fry has over 39 years of PLM and manufacturing industry experience. Mr. Fry has broad industry experience servicing clients from aerospace & defense, shipbuilding, automotive, and electronics industries. Prior to his consulting career, Mr. Fry was an aerospace design engineer with Beech Aircraft and Martin Marietta. Later, while at several leading PLM solution providers, he worked with global manufacturing companies in the automotive, aerospace & defense, building products, fabrication, industrial equipment, and marine industries. More recently he was involved in the predictive analytics discipline working on projects implementing the Internet of Things (IoT) and Industry 4.0 practices to provide data collection for cognitive computing and decision-making. This work was applied to machine tool operations, drone imaging and video capture, as well as jet engine failure prediction.
This webinar will help attendees understand where IoT, Industry 4.0, and Predictive Analytics fit within an enterprise application and how it can be supported by PLM. Attendees will also learn why IoT is the catalyst for manufacturing transformation.
The webinar will be useful to manufacturing planners and managers, PLM team leaders, PLM team members, PLM users, manufacturing engineers, field service personnel, product managers, IT leadership, solution and service providers, industrial companies seeking to make CAM investments, industry and financial analysts, and anyone who wants to learn more about PLM, IoT, Industry 4.0, asset management, and predictive analytics.
During the webinar attendees will have the opportunity to ask questions about the topics discussed. To find out more, visit: http://www.cimdata.com/en/education/educational-webinars/webinar-how-to-apply-iot-industry-4-0-predictive-analytics-in-the-manufacturing-domain. To register for this webinar please visit: https://attendee.gotowebinar.com/register/4260942186588261379.
Featured Product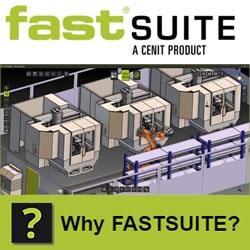 With two product lines, FASTSUITE for V5, which is seamlessly integrated with CATIA/DELMIA V5, and FASTSUITE Edition 2, a standalone platform, the areas of OLP (offline programming), manufacturing simulation and virtual commissioning are the core of our business activities. Our applications and solutions are not only focused on real customer needs, but they are also designed to improve efficiency and quality of our customers' manufacturing processes. No matter if the process is just about offline programming of a single robot at a small job-shop company or about the validation of a complete production line at an Automotive or Aerospace OEM. We strive to ensure a constant quality of our services and to provide the best possible support to our worldwide customers. Therefore we have established three digital manufacturing hubs around the world. All our teams have a proven expertise on manufacturing process integration and profound IT implementation skills.