3D food printing startup adds Jim Grote, Grote Company founder as partner
COLUMBUS, Ohio, March 1, 2017 /PRNewswire/ -- BeeHex, Inc., the 3D food printing company that "promises to change the way food is made", completed its $1,000,000 seed round led by Grote Company founder, Jim Grote.

BeeHex, with its flagship product Chef 3D, builds 3D food printing systems that assemble and deliver fresh foods. Best known for printing pizza, in 2016 BeeHex teamed up with Michelin bib gourmand-rated Italian chef Pasquale Cozzolino to create gluten-free and savory pizza crust options using an 80-year-old mother yeast. BeeHex's Chef 3D systems began 2016 with a "print time" of six minutes to create a 12" pizza and exited 2016 with a print time at around the one-minute mark. BeeHex systems will allow for personalized food orders from an app and also with the push of a button, fit for commercial kitchen use.
Lead seed-round investor Jim Grote, founder of the Grote Company, a worldwide manufacturer of food-processing equipment, said of BeeHex: "The technology is unmatched in bringing unique opportunities to the food industry. This revolutionary technology will produce consistent, good tasting, nutritious products. The BeeHex team provides the talent to change the way food is made."
CEO Anjan Contractor says that BeeHex plans to soft launch in 2017 as planned and couldn't think of a better partner than Grote. In February 2017 BeeHex moved its R&D facilities to Columbus, Ohio to accelerate technology development including "other robots in the works," says Contractor.
BeeHex plans a number of public appearances in 2017 including at The International Pizza Expo, March 27-29 in Las Vegas, Nevada. "2017 should prove to be a banner year for BeeHex with a number of 'locally sourced and organic' events planned," says CMO Jordan French.
BeeHex's rapid, fresh-food 3D printing systems are marketed to big-box retailers, grocery chains, theme parks, music venues, caterers, cinemas and the hotel and lodging industry.
ABOUT BEEHEX
BeeHex is a robotics company that builds fresh food 3D printing systems. Originating from NASA, BeeHex was named the most popular exhibit at a number of expos and fairs in 2016, with clients ranging from General Electric, Group Danone, The Ohio State University, VaynerMedia and Edible magazine (Manhattan). Named a "media darling" by Inc. magazine, BeeHex earned the runner's up spot behind Uber Eats for "Best New Tech" at Vice magazine's Taste Talks awards.
With patent-pending technology often compared to the Star Trek Replicator and the hydrator from Back to the Future: Part II, BeeHex is led by engineers Anjan Contractor, Chintan Kanuga, Fast 50 and Inc. 500 entrepreneur Jordan French and startup attorney Ben Feltner.
Featured Product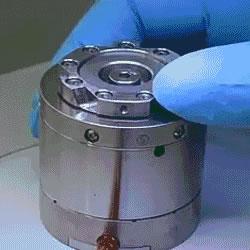 Hexapod micro-motion 6-axis platforms are based on a very flexible concept that can easily solve complex motion and alignment problems in fields including Optics, Photonics, Precision Automation, Automotive, and Medical Engineering.